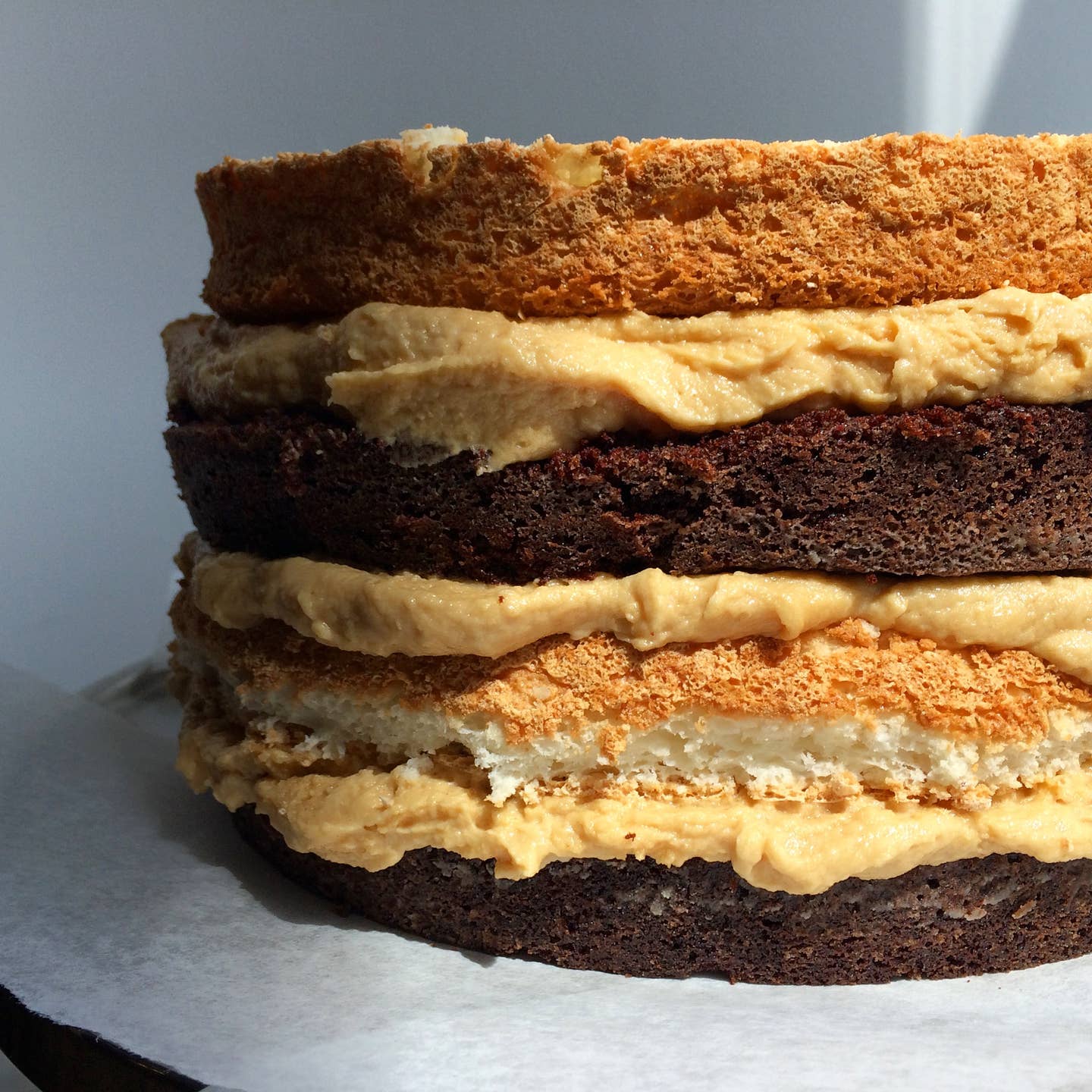 Techniques
What We Learned This Week: May 25-29, 2015
Assembling cake in the heat, tips on grilling a spicy t-bone, and what to do with leftovers
Each week is a new culinary adventure in the SAVEUR Test Kitchen. From cooking tips and kitchen hacks to product discoveries and creative ingredient uses, here's where we share our biggest takeaways.
This week we celebrated SAVEUR Publisher Kristin Cohen's birthday with a Heaven and Hell cake. This indulgent creation, which consists of angel food cake, devil's food cake, peanut butter mousse, and chocolate ganache, was a little daunting to assemble in the current NYC heat. We found that freezing the cake between adding mousse and additional layers allowed for a beautiful cake that did not fall apart.
On Tuesday, we began testing recipes from an upcoming feature, including a chili-garlic paste that used over a pound of red chilis. Needless to say, we discovered that though delicious, it is not advisable to eat an entire spoonful.
One recipe we tested this week needed purslane, a leaf vegetable commonly eaten in Eastern Europe as well as Middle Eastern cultures. After ransacking multiple specialty grocery stores unsuccessfully, we thought we would never find it. Luckily, we were able to snag the last package at the Union Square Greenmarket from Two Guys From Woodbridge, a hydroponics farm in Connecticut. We now know of a steady purslane purveyor that we can visit three days a week at the market.
We have tastings every day in the test kitchen where the editors taste and comment on the recipes featured in the magazine. Everyone swooned over this beautifully roasted chicken, though we realized that the flavors did not blend with the story nor pair well with its other recipes. So now we begin tweaking: we'll keep iterating on this recipe until it works beautifully with the other dishes in the story.
Momofuku Milk Bar stopped by with an array of their cookies for the SAVEUR staff. The beautiful display of cookies sprawled across our conference table were quick to disappear, although we suspect this may also be due to some quick-thinking staffers who hid a few of the addictive "compost" cookies in their desks for future snacking. Not only did we learn that sweets go fast in the SAVEUR office, but we also concluded that sprinkles are especially hard to get out of the seams of a large wooden table.
Coming soon to SAVEUR.com is a great recipe for raspberry financiers. We made a little too much batter, which was alleviated by our discovery that you can make jumbo financiers by pouring the batter in an 6" tart pan and baking it at 350° until golden.
We waste no food in the SAVEUR Test Kitchen. After testing a creole remoulade (recipe coming soon to SAVEUR.com), we drizzled it over extra vegetables that we roasted for lunch. We found that the combination of bright vegetables and this creamy, spicy sauce was a perfect match.