The Year in Weird, Delicious Bread
2016 was a hard year, but the carbs were fantastic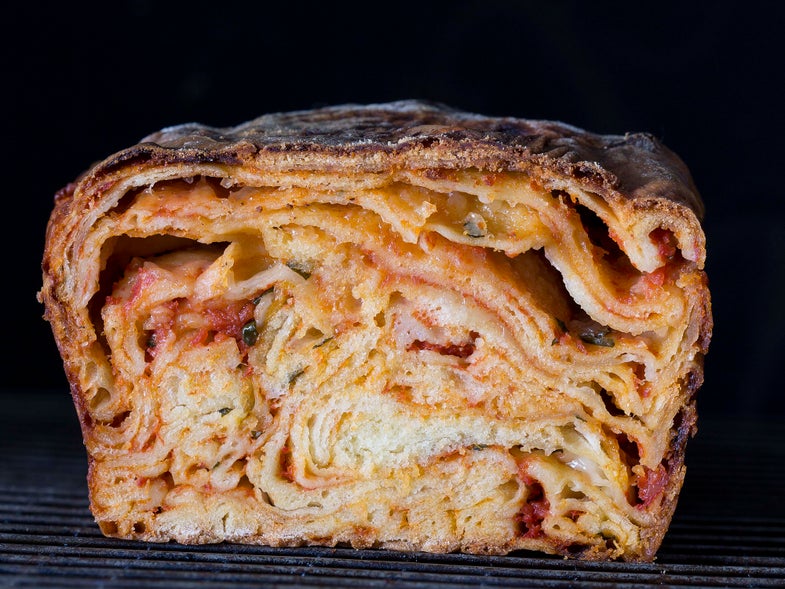 Kummerspeck. It's the German word for weight you gain from emotional overeating (literal translation: 'grief bacon'). 2016's been a hard one, and at SAVEUR we've accrued our fair share of grief bacon, mostly in the form of bread.
On the plus side, it's been really good year for bread. Let's review, shall we?
Greek New Year's Bread
We started the year with vasilopita, the squishy, cinnamon-y Greek chimera of bread and cake that's traditionally eaten for the new year. It's a round loaf meant to symbolize the sweetness and fullness of the coming year, and a coin hidden in every pan ensures good luck for whoever wins the happy slice.
Pittsburgh Fruit Cake
In Pittsburgh, where many bakers are of Slovak, Czech, and Hungarian heritage, fruitcake isn't the holiday dessert of choice. A funky-sounding bread called nut roll is. You make a simple yeast dough, roll it out into a sheet, and spread a layer of gooey spiced walnut filling on top, then roll it all up, bake it, slice it, and then toast this already-buttery loaf and top it with more butter. We're into it.
(Sorry, fruitcake, we love you too.)
Lard Bread (!) Stuffing (!!)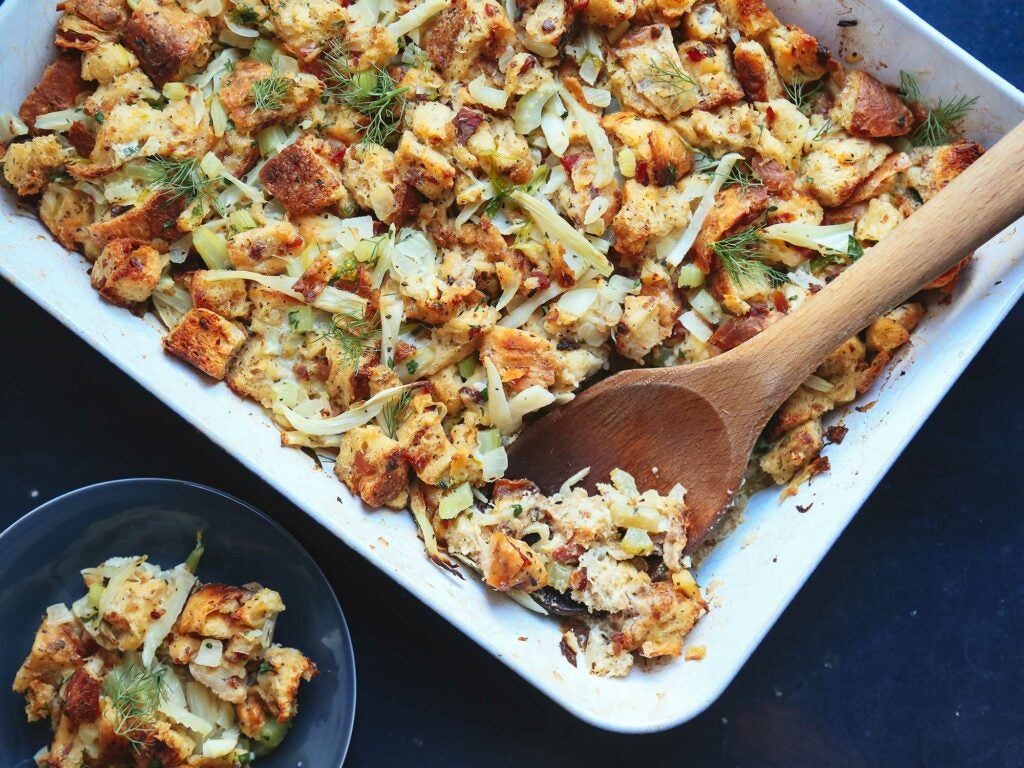 Lard Bread Dressing
Quoth editor Stacy Adimando, the creator of this weird and wonderful stuffing recipe:
You want this, but what's more, you want to make stuffing with it. Thanksgiving is over, but there's still at least one more holiday dinner ahead of you.
That Time We Made Lasagna Bread
This is scaccia, a.k.a. Sicilian lasagna bread, a specialty of Ragusa on the island's southeastern corner. You could also call it pizza babka. Or whatever you want. Just make it.
And Speaking of Sicilian Bread
In Ybor City, Florida, a curious pizza-like bread has emerged from the local Cuban and Italian bakeries called scachatta, a direct relative of both Sicilian sfincione pizza and pie-like tomato breads such as that scaccia. Except in Ybor, the dough's enriched with enough egg to turn it a sunny yellow, the tomato sauce has chorizo, and rosemary and oregano make appearances. This is the American dream of bread.
Is One of America's Best Bagels in Maine?
Yes. It's a sourdough base cooked in a wood oven and the Everything is coated with a gorgeous abundance of seeds and spices. Go pay a visit to Lewiston.
The Somali Connection
This dispatch from Acadian country in Maine is one of my favorite stories of the year, a tale of a pancake-perfecting preacher who re-discovered the ancient origins of a regional breadstuff with the help of the Somali refugees he works with. Ployes, as these crumpet-like pancakes are called, are essential flatbreads meant to be eaten with chicken stew and pots of beans. They are to Acadians what pizza is to New Yorkers; not only are they both beloved, but there's a lot of holes in the institutional knowledge.
Modern recipes for ployes call for baking powder, but the tradition of making ployes well pre-dates the invention of chemical leaveners. Thing is, no one today really had a way of re-inventing the original. That is, until Father Paul Dumais made the connection to a naturally fermented Somali flatbread called anjero. After consulting with Somali cooks—and his own grandmother—he developed a recipe for naturally leavened ployes that taste pretty darn amazing. They're a project, but a good one.
A Spicy Bread Bowl
In the South African city of Durban, a massive but isolated Indian population has adapted to the local culture and ingredients. One such adaptation? Bunny chow, a lamb curry dish stuffed inside a hollowed-out loaf of white bread so it absorbs all the spicy gravy. I'm calling it the year of the bread bowl.
Chorizo and Wine Bread
It's French. Sort of. Make it.
And Then There's Kebabka
This is a true success story: a bread pulled from the ether of the heavenly spheres backstage at the James Beard Awards in 2015, then brought to life by chef Alon Shaya at SAVEUR's cookout this summer.
Kebabka is what it sounds like: Kebab meat folded into babka dough. But then you slice it and throw it on a griddle until the entire thing toasts in its own fat and you schmear on some yogurt sauce and you wind up with this gorgeous thing. Recipe coming soon, stay tuned.
And in the World of the Bread-Adjacent