What to Cook This Weekend: In Defense of the Bread Bowl
Why cooks around the world have embraced the corny, carby tradition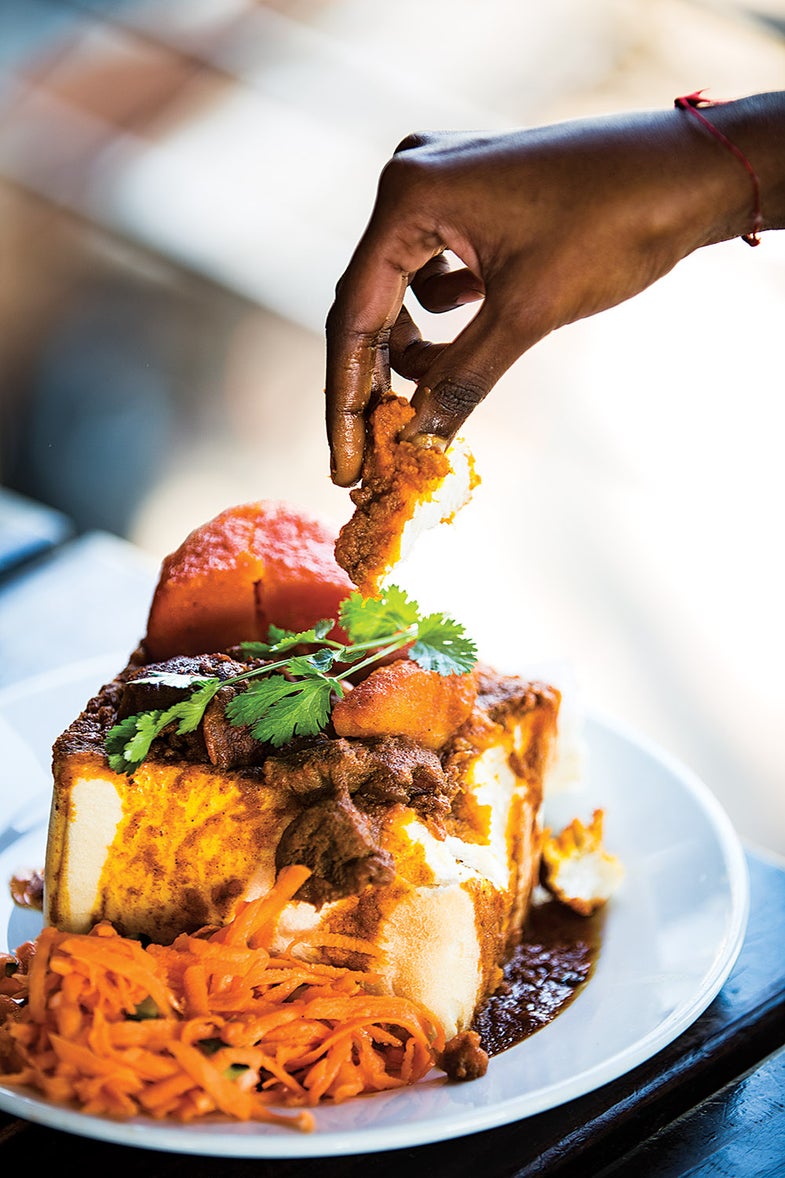 November was hard.
30 days felt like a whole lot more. Thanksgiving planning didn't help. A painful election didn't help. Suspiciously warm, muggy days didn't help, especially since I can't remember the last time my sector of the Northeast had a properly crisp November as normal climate patterns would suggest. All of which is to say, I need some serious comfort food right now. I need bread bowls.
I know, I know, bread bowls are literally the bread and circuses of the culinarily unsophisticated. They're starch as shitck, prop food meant to entertain chowder-slurping tourists on Fisherman's Wharf, as John Birdsall eloquently writes in Lucky Peach. They make a mockery of good bread and aren't really that delicious. That is, until they are.
Take bunny chow, the distinctive dish of the city of Durban where Indian immigrants have adapted to South African ingredients. Lamb curry in a hollowed-out loaf of white bread makes no sense until it makes all the sense—the bread is the ideal sponge to soak up spicy gravy, better than rice or roti or any other flatbread in the Indian arsenal. You gobble it all up with your hands and it's messy and wonderful.
Over in Taiwan, a macabre-sounding dish called coffin bread swaps lamb curry for a pot-pie-like stew of shrimp with corn, carrots, and the like. The soupy stuff is admittedly not that great, but the genius move is to toast the white bread until it becomes a massive golden crouton, a faintly buttery thing with great crisp-squishy character. Bread bowls like these are hearty and heartwarming. And they're not about torturing great bread; they're about elevating pre-existing common loaves to something spectacular.
The other day, my heart was hurting to the point where the only acceptable salve was loads of sour cream, so I dashed through the rain to eat dinner at the counter of Little Poland, a cozy Eastern European diner in a New York neighborhood that's rapidly losing its borscht belt character. There they serve an excellent bigos: pork shoulder, kielbasa, and bacon braised in sauerkraut until the cabbage collapses into smoky caramel. They serve it in a bread bowl. The bread's just okay and pretty forgettable. But that fine layer of interior crumb, where starch meats pork fat and cabbage stew and melts into an almost custardy thing? It's salvation.