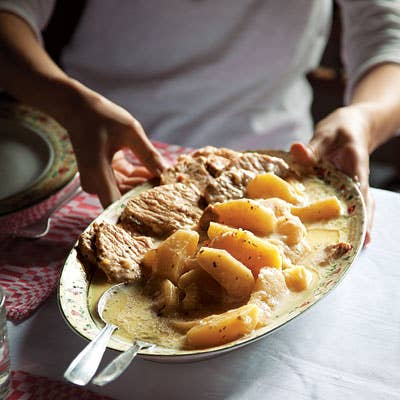 Sweet or dry, the spicy depth of apple cider complements everything from cakey donuts to rich braises.
Inspired by Norman cuisine, we married a hearty pork loin with apples and the classic beverages of the Calvados region of Normandy, France—hard cider and calvados.
The turkey in this recipe, from Lynne Rossetto Kasper, is deeply infused with the aroma of apples. "I'm a great believer in repeating seasoning themes at different stages of cooking to build depth," she says, "which is why I use several expressions of apple—the fruit itself, cider, and apple brandy—in this recipe."
Tender slices of pork loin in a sumptuous cream sauce get tartness from apple cider and apple wedges and a pleasant twinge of heat from red Holland chiles.
A mix of baking apples, such as Cortland and Macintosh, and eating apples like Honeycrisp and Golden Delicious, provides a texture of plump, soft apple chunks suspended in a rich, satiny sauce. Try a mix of varieties such as Fuji, Gala, Jonagold, Braeburn or whatever you find.