Holiday Punch Recipes
Pamper your party guests with these festive punches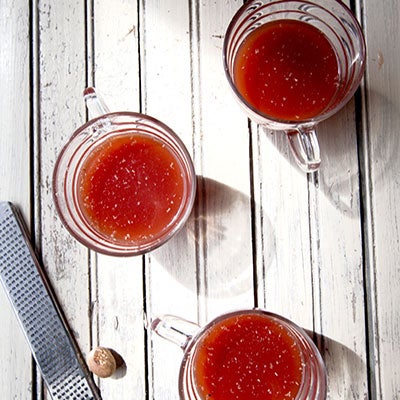 Fall and winter are full of holidays, which means lots of parties, often with family involved. A little booze can make all of these get-togethers run a little more smoothly. We've rounded up our favorite festive punch recipes making use of all the season's great flavors.
Few drinks are as seasonal as eggnog. You might see it for a couple of weeks in December, but then it disappears. Our recipes are so good you might want to drink well into the new year. Not Your Nana's Nog is a polished version of the classic, made with eggs, cream, and spiced rum, plus orange liqueur. Hugh Acheson's eggnog uses a mixture of rum and bourbon and is dressed up with nutmeg.
If eggnog sounds a little too heavy, we've got plenty of other great festive punches. The Poinsettia punch takes a floral gin and mixes it with grenadine, allspice dram, and cinnamon syrup. Cranberries are a staple of the season, and their tart flavor is great for cocktails. Red Nose Punch is a beer and bourbon drink flavored with cranberry, lime, and more cinnamon syrup. If it's warmer out try our Pawleys Rum Punch, a refreshing mix of cranberry, orange, and pineapple juice and two kinds of rum.
Sometimes making a holiday punch is as simple as finding the right garnish for a great year-round recipe. The Horse & Carriage is a lightly sweet, effervescent gin-based punch made with chamomile tea and sparkling wine. In the fall try it garnished with apples, pears, and cinnamon sticks; in winter with citrus slices and pomegranate
Find all these recipes and more in our collection of great holiday punches!