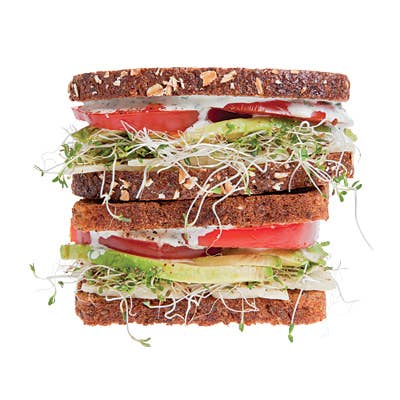 Recipes
Summer Sandwich Recipes
Look to these sandwiches when the weather gets warm
For brown-bag lunches, beach picnics, or a relaxed no-cook dinner, a sandwich takes everything great about summer and wraps it up in a neat, bread-encased package. These sandwich recipes are some of our favorites—try them for your next laid-back warm-weather meal.
Summer is all about showcasing seasonal ingredients. One of our favorite short-lived delicacies is soft-shell crab. The crustaceans are delicious fried. We like to serve them on sandwiches with a crisp collard slaw and tangy tartar and cocktail sauces.
One of our favorite summer vegetables is the tomato. Peak-season tomatoes need almost no accompaniment—try them on buttered toast with mayonnaise, salt, pepper, and the tiniest pinch of sugar to bring out their natural sweetness.
There are plenty of other things to do with good tomatoes, of course. In our California sandwich they get paired with avocado, sprouts, and Monterey Jack and topped with homemade ranch dressing. They're also at home in our Iraqi-inspired eggplant and cucumber salad sandwich and a classic club.
What's summer without backyard barbecues? Fire up the grill or the smoker and make our Alabama-style chicken, which is traditionally paired with a mayonnaise-based white sauce and dill pickles.
A hearty, meaty sandwich is delicious year-round. In the summer we love the chivito, a Uruguayan sandwich, a hearty bacon cheesesteak lightened slightly by lettuce, tomato, hard-boiled, and hot peppers.
Find all of these dishes and more in our collection of summer sandwich recipes.