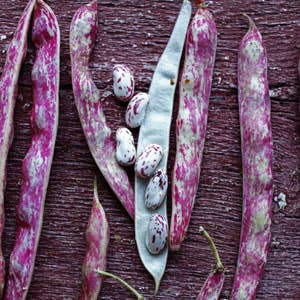 It's a cinch to remove shucking beans from their pods, and it's much harder to resist them during the summer months, when they're abundant. Some of our favorite domestic-grown varieties run the gamut from scarlet-and-white-marbled cranberry beans to Romano beans (flat, broad green beans to be shucked when mature) to Kentucky Wonders (reminiscent of string beans, ideal for eating fresh or canning). While many beans lure eaters with an array of colors, most are beige or mauve after they've been cooked, but their plumpness and moist texture provide an allure on their own. Serve boiled and then sauteed in oil with herbs, mash with heavy cream for a silky side dish, or dress and season lightly as part of a cold or warm salad.
Featured Shucking Bean Recipes
By being careful not to overcook beans, you can ensure uniform texture and flavor and can avoid separating the beans from their skins.
These beans are best cooked in gently simmering water, rather than boiling water, to prevent overcooking.
Shucking beans can be purchased at Whole Foods and similarly produce-heavy markets; you'll also find them in season at farmers' markets and farm stands.