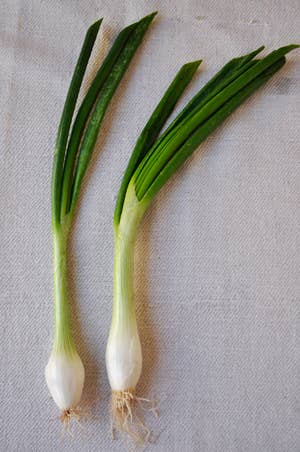 Smaller than leeks but with a fatter bulb than scallions have, spring onions are ordinary onions that have been pulled from the ground before they grow to full size. (Scallions, also known as green onions, are an even younger version of the same thing.) A spring onion's flavor will be milder than a mature onion's but considerably stronger than a scallion's, and its greens will have a strong flavor, too. Though widely known as "spring" onions, they're shipped year-round from farms in California and Mexico.
Spring onions can be used in place of more-common scallions, especially when you're looking for a little more punch. You can eat them raw or cooked, in salads, salsas, and stews, to name just a few dishes that benefit from the spring onion's uniquely bright and pungent flavor. Whole grilled spring onions make a delicious and dramatic side dish; in Spain, grilled spring onions are traditionally served with romesco sauce.
Featured Spring Onion Recipes
Look for spring onions with dark green leaves, and avoid bunches that are wilted or slimy.
The onions will keep for several days in a perforated bag in the refrigerator, but these tender bulbs won't keep as well as their mature cousins.
Look for spring onions at farmers' markets and in the produce section of your supermarket.