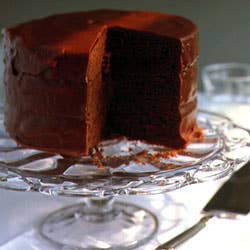 Recipes
Chocolate Cake
This timeless post-meal favorite deliciously represents the heart of a Southern family.
Cake baking goes back generations among my forebears in the Piedmont of North Carolina. My grandmother Mattie tutored all of us cousins in the alchemy of baking. The recipes she passed down were born out of the necessity for something sweet and delicious. Her cake-for-any-occasion tradition yielded a library of classics. These are simple and durable formulas, having survived repeat performances at all manner of family gatherings.
A special place is reserved for her Very Moist Chocolate Layer Cake. It delivers a velvety crumb texture, an honest chocolate taste, and a wantonly rich icing. Defying a recent trend toward overrefinement and flourless recipes, this beauty is from the"leave well enough alone" school. It is a cake from the heart of my family—one that can serve as the glorious centerpiece for a tea or the grand finale to a special meal. I wrote Robbin Gourley's Cakewalk (Doubleday, 1994) to preserve the spirit in which cakes like these were baked and to celebrate the notion that recipes handed down preserve the family union (if not the Confederacy).