One Ingredient, Many Ways: Figs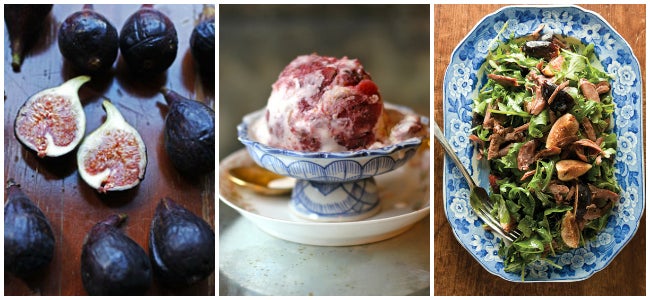 Every year on the cusp of fall, you can find figs hanging like fat jewels from broad-leafed trees across the Mediterranean, California, and even in the backyards of my Brooklyn neighborhood. Figs might just be the world's lustiest fruit: slicing through their tender skin reveals an obscenely lush cache of purple, honey-sweet flesh and seeds. Is it any wonder that figs have long been touted as an aphrodisiac and poetically likened to blushing lips (among other things)? Or why, after eating from the tree of knowledge, Adam and Eve turned to the supple, green fig leaf for cover?
I spent a heartbroken month volunteering on a farm in northern Italy the summer after college. I remember observing the farm's fig trees with a fascination I couldn't quite place. It was July, and the trees' fruits were little more than swollen green buds—but I obsessively tracked their progress anyway. Years later, I finally understand that I was watching those figs for some kind of proof that, despite the numbness of my own heartache, love and passion still existed in the world.
Fig season is fleeting—in my corner of the Northeast, fresh figs are typically ripe for a couple of weeks on either side of Labor Day. During that time I indulge accordingly, slicing figs and filling them with soft, fresh cheese, baking them into glistening sweet tarts, or quartering them for salads. The rest of the year, I turn to dried figs. They might not be as decadent as the fresh version, but their jammy, concentrated sweetness keeps me going until next year's fig season comes along.
SWEET
Fig Ice Cream
Figs, cinnamon and brown sugar get swirled into creamy ice cream.
Fig and Almond Cake
This almond-scented cake includes two different types of figs: black mission and calimyrna.
Figs in Brandy
Preserve figs in a sweet and boozy brandy sauce.
Fig Tart with Apricot Sorbet
Luscious sweet figs pairs perfectly with tart apricot sorbet.
Credit: Paolo Destefanis
Friulian Fruitcake
Yeast cake is generously stuffed with raisins, prunes, nuts and dried figs.
Prune and Fig Ravioli with Cinnamon-Scented Butter
Serve this unusually sweet pasta as a first course or a dessert.
Leite's Culinaria: Fresh Figs with Ricotta and Honey
Pair fresh figs with a dollop of creamy ricotta, a drizzle of honey and a sprinkle of chopped pistachios.
SAVORY
Quail with Fig Sauce
Figs' intense sweetness offsets the quail's richness in this Italian dish.
Anglerfish Grilled in Fig Leaves
Fresh fig leaves impart a delicate scent and flavor to grilled fish.
Tapenade Noir a Figue (Olive Spread with Figs)
A classic Provençal spread combines black olives, cured anchovies and black mission figs.
Duck Breast with Brandied Fig Sauce
Serve this marinated duck breast in a chile-spiced fig sauce.
Goose Confit Salad
Spicy arugula gets topped with roasted goose and wedges of juicy fresh fig.
NY Times: Lamb and Fig Kebabs with Honey and Rosemary
Sweet, meaty kebabs are the perfect end-of-summer treat.
DRINK
The Scottish Dream
Black mission fig bitters and cinnamon syrup are the secret to a Scotch whiskey cocktail that's at once spicy, smoky, and sweet.
The Kitchn: The Fig Old-Fashioned
Maple syrup, bourbon, balsamic vinegar, and fresh figs combine for an update on the classic.
Leah Koenig is a freelance writer and author of The Hadassah Everyday Cookbook: Daily Meals for the Contemporary Jewish Kitchen