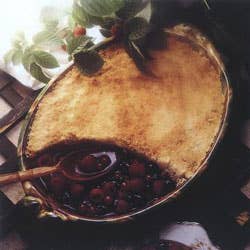 Techniques
The Berry Crisp
It's a match made in culinary heaven: fresh, juicy berries and a perfectly crumbly crust.
A crisp is a crumble, cousin to a cobbler, close friends with a betty, and as American as … cherry pie. The berry crisp is one of those classics that came about not as a vanity dish for some chef, but because the ingredients are impeccably suited to each other. If you use fresh, juicy berries in a pie, even the best bottom crust is liable to turn soggy. So the crisp was bred with just one crust, a crumbly top designed to soak up all that liquid and still offer texture to offset the berries' lusciousness.
Marion Cunningham, the noted authority on classic American cooking, noted her friend James Beard was quite fond of crisps (as well as the cobblerlike buckles, slumps, and grunts, but that's another story). She applied the concept of this "everyman's food" to other fruits, such as the simple apple crisp, in her revision of The Fanny Farmer Cookbook. But her very favorite crisp recipe, she says, and one all her food-loving friends now make, was pressed into her hands some years ago by a 19-year-old boy named Willie, while she was in Seattle on a book tour. Hence, Willie's Crisp.