New Fish Cookbooks
In this year's SAVEUR 100, we take stock of our favorite things: recipes, people, places. We consider every last one a new classic.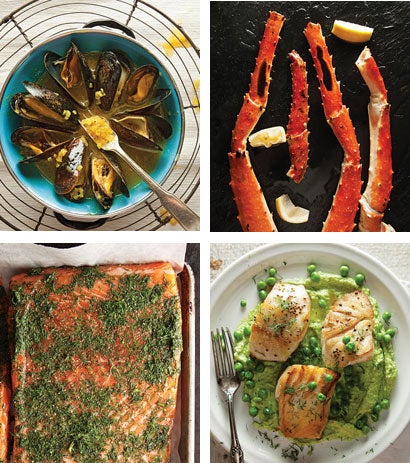 We may earn revenue from the products available on this page and participate in affiliate programs.
Thank heavens for the recent bonanza of fish cookbooks. Relying on older books can be problematic: The world has changed, the seas have changed, and the kinds of fish that are abundant and available have certainly changed. Below are four titles released in 2011 and 2012 that help us make better choices—and more delicious fish dishes—than ever before.
British author and gentleman farmer Hugh Fearnley-Whittingstall has teamed up with the aptly named Nick Fisher—the BBC's go-to seafood pundit—for The River Cottage Fish Book (Ten Speed Press), which includes practical instruction on everything from gutting to filleting to defrosting fish, with thorough guidance regarding sustainable practices. At its heart are dishes like curried mussels served in a creamy, herbaceous, wine-laced broth that are so appealing you can't wait to visit your fishmonger.
In For Cod & Country: Simple, Delicious, Sustainable Cooking (Sterling Epicure), Washington, D.C.-based chef Barton Seaver asserts that what's good for the oceans makes good culinary sense, too. Recipes are organized seasonally—reasonable, as most fishes' flavor and availability changes across the year. It also means that Seaver groups seafoods with sides that suit them naturally—summery grilled king crab legs with grilled kale drizzled in almond oil; broiled Arctic char with a wintry ragout of turnip, celery, and chestnuts.
Artist and designer Jake Tilson's books, for which he creates the recipes, the photographs, and even the fonts, are always engaging. In at the Deep End: Cooking Fish Venice to Tokyo (Globe Pequot Press) is downright thrilling; it tells the tale of Tilson's quest to overcome his fish phobia. He catches mackerel off the coast of northeast Scotland; he snorkels in the shark-infested waters of Australia's Great Barrier Reef. But mostly he cooks the dishes he's discovered in his travels: Venetian cuttlefish in its ink with polenta; a classic Swedish gravadlax.
In February, Phaidon Press is publishing Fish: Recipes from the Sea, a new collection from the archives of Italy's seminal Silver Spoon cookbook, with full-color photographs and illustrated encyclopedia-style entries on the fish called for in every dish. There's step-by-step instruction in techniques such as scaling and skinning, shucking oysters, and preparing octopus, while the seductive recipes run to fried skate with butter and capers, and sauteed cod with a luscious pea cream.
See the recipe for Curried Mussels »
See the recipe for Grilled King Crab Legs »
See the recipe for Gravadlax (Swedish Cured Salmon) »
See the recipe for Sauteed Cod in Pea Cream »