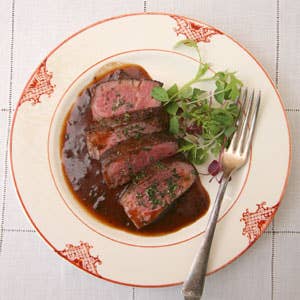 Recipes
Menu: A Romantic French Dinner for Two
This oyster recipe calls for 12 oysters, but you can simply prepare only as many oysters as you think you and your special someone will eat and reserve the remaining herbed butter for another use.

You may want to prepare the foie gras terrine a day or two in advance, as the recipe does take some time. De-vein and soak the foie gras overnight in ice water the day before you are prepared to cook the terrine. See our gallery on preparing a Foie Gras Terrine for step-by-step instructions. (If you don't wish to make the terrine yourself, you can purchase them pre-made at your local boutique butcher or cheese shop.)

The potato gratin recipe can be halved and baked in two large ramekins or a small baking dish. Alternately you can make the recipe in full and plan to have leftovers, as gratins can taste even better after sitting in the fridge overnight.

When making the filet mignon, use two 6-oz. filets instead of four and reserve the leftover sauce for another use.

Creme brulee makes an elegant end to this French bistro meal, and you can easily halve this recipe to yield just two servings.