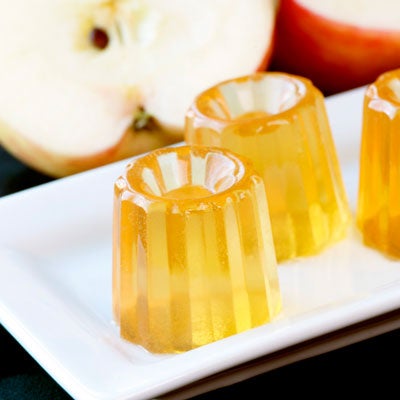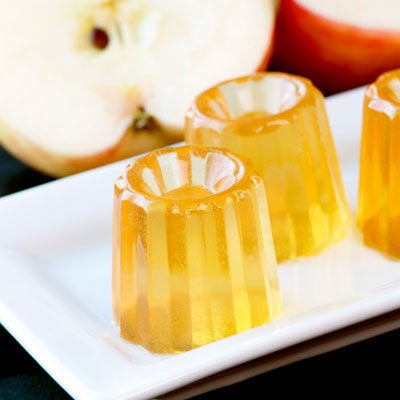 This Apple Pie Jelly Shot, developed for SAVEUR by Michelle Palm of the blog Jelly Shot Test Kitchen, plays straight to tradition: apple juice, Apfelkorn, and Tuaca, a creamsicle-flavored liqueur.
Recommended pan: molds or 1-lb. loaf pan (approximately 8″ x 4″)
Yield: makes About 15 Jelly Shots
Ingredients
1 cup unsweetened apple juice
3 envelopes Knox gelatin
3⁄4 cup Tuaca liqueur
1⁄4 cup Berentzen Apfel Korn liqueur (or apple schnapps)
Instructions
Pour apple juice into a small saucepan and sprinkle with the gelatin. Allow the gelatin to soak for a minute or two. Heat over very low heat, stirring constantly, until gelatin is dissolved, about 5 minutes. Mixture will initially be very thick. Remove from heat.
Stir in the Tuaca and Apfel Korn.
Pour mixture into pan or molds and refrigerate until fully set, several hours or overnight.
To serve, cut into desired shapes or unmold.