Artichokes with Lemon Za'atar Dipping Sauce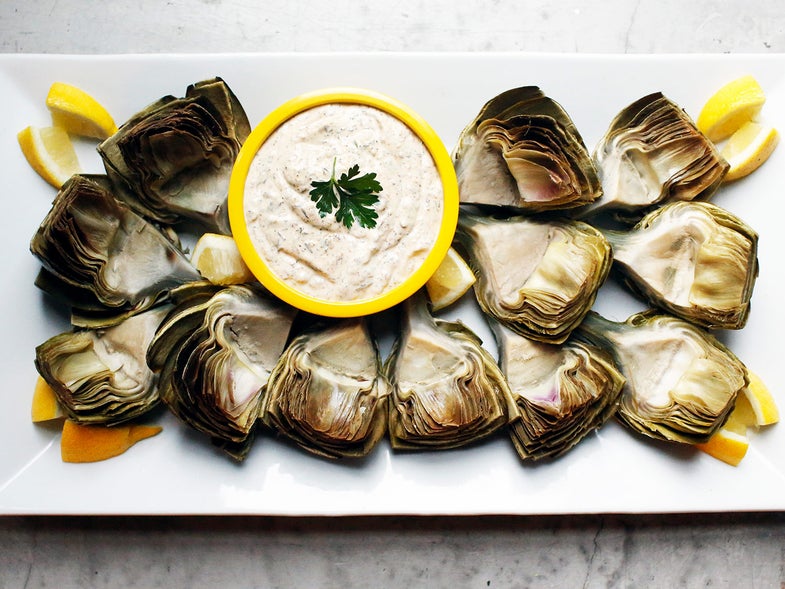 This recipe comes from Susan Feniger's cookbook Street Food (available in print and on the Apple iBookstore), a July 2012 pick in SAVEUR's roundup of the best culinary ebooks, Digital Feast. Susan says: "Za'atar is the Arabic word for thyme, but it is also used to describe a mixture of sesame seeds, dried thyme, and spices that is found all across the Middle East. This za'atar dipping sauce calls for sumac, an African spice that is also used in Middle Eastern cooking. The fruit of the sumac plant is a gorgeous deep red berry and, when it's ground, adds a lemony flavor to help balance the richness in a dish. If your local supermarket doesn't carry ground sumac, you can always find it in an Asian or Middle Eastern market."
Equipment
Artichokes with Lemon Za'atar Dipping Sauce
This recipe from Susan Feniger's cookbook Street Food marries the earthy flavor of za'atar, a Middle Eastern spice blend, with bright lemon and artichoke.
Time: 1 hour, 30 minutes
For the Lemon Za'atar Dipping Sauce
1 cup mayonnaise
Juice of 1 lemon (about 1/4 cup)
1⁄4 cup sesame seeds, toasted
3 tbsp. dried thyme
2 tsp. Dijon mustard
1 tsp. ground sumac
1 tsp. kosher salt
1⁄2 tsp. cayenne pepper
For the Artichokes
3 large artichokes
1 lemon, quartered
2 tbsp. kosher salt
3 tbsp. extra virgin olive oil
Instructions
Make the lemon za'atar dipping sauce: Put the mayonnaise, lemon juice, sesame seeds, thyme, mustard, sumac, salt, and cayenne in a small mixing bowl. Stir well with a rubber spatula or a spoon to combine. (Note: The sauce can be refrigerated, with plastic wrap pressed against the surface, for up to 2 days.)
Prepare the artichokes: first cut off the bottom portion of the stem, leaving only 1 inch of the stem attached. Using a sharp knife (sometimes a serrated knife works best for this), cut off the tip of the artichoke, slicing straight across about 2 inches down. Using scissors, clip off the sharp spikes on the tips of the remaining leaves.
Put the artichokes in a large pot, and add enough water to reach three-quarters of the way up the artichokes. Squeeze the lemon quarters into the water and then throw the quarters in as well. Add the salt and olive oil to the water. Cover, and cook over high heat until the water comes to a boil, about 15 minutes. Reduce the heat to low and simmer, still covered, for 30 minutes. Test an artichoke to see if it's done by gently tugging one of the lower leaves. It should come off easily but with resistance, and the whole leaf should pull out in one piece, not fall apart.
Turn off the heat. Remove the artichokes, put them upside down on a plate to drain, and let them cool to room temperature, 15 to 20 minutes.
Once they have cooled, cut each artichoke in half lengthwise. With a spoon, gently scoop out and discard the fuzzy inner choke and the pointy purple leaves that line the inside. Cut each half in half again, creating small portions that are more easily shared. Arrange them on a platter and serve with the lemon za'atar dipping sauce.
This recipe is excerpted with permission from _Susan Feniger's Street Food, copyright 2012 Clarkson Potter, available on the Apple iBookstore._