Recipes
Baked Ricotta with Orange Blossom-Cherry Sauce
Serves

serves 4

Cook

1 hour 15 minutes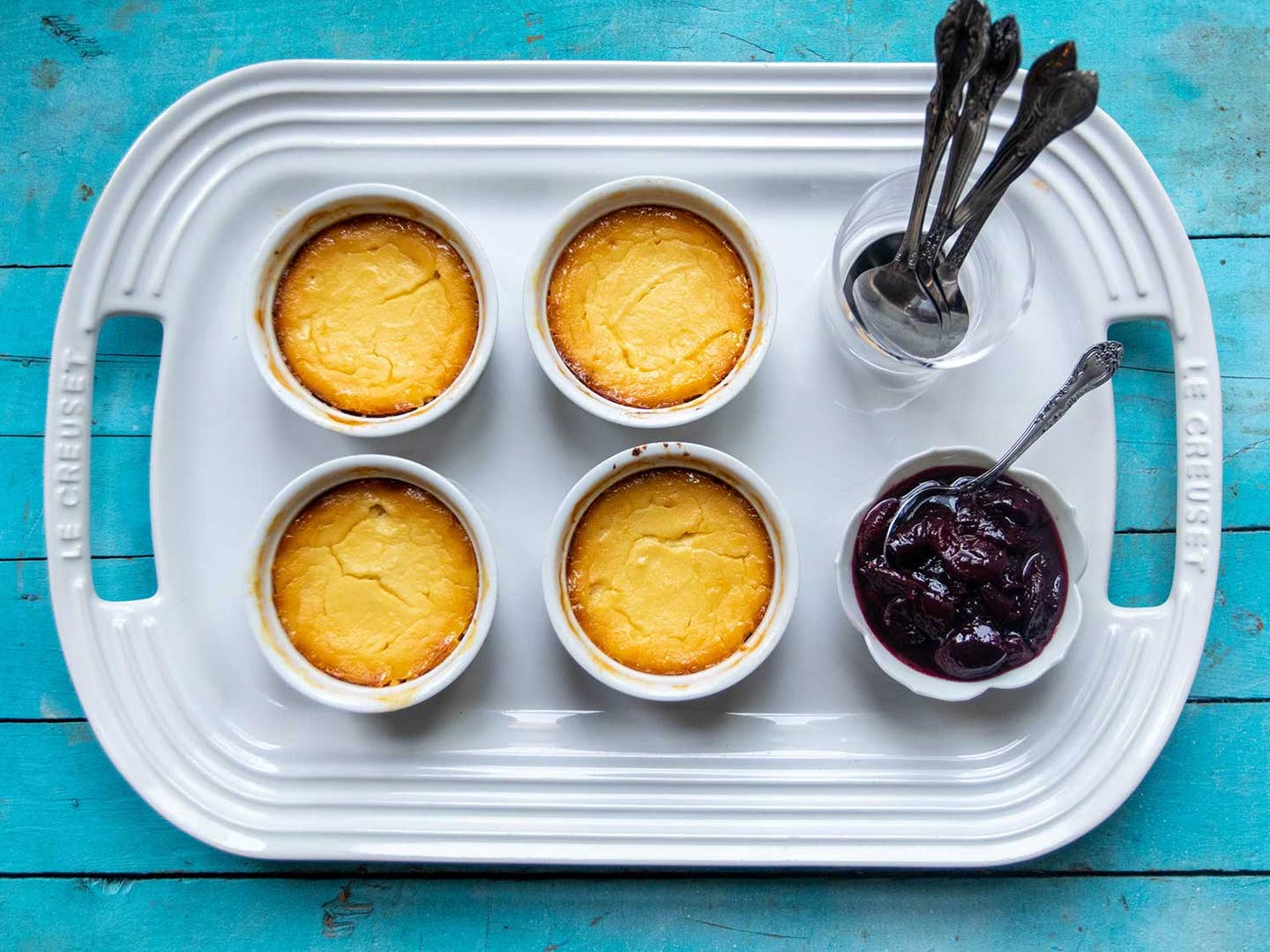 Serve this creamy, sweet baked ricotta dish as an appetizer, as part of a cheese course, or for dessert paired with shortbread cookies.
Ingredients
For the orange blossom-cherry compote
1 cup fresh or frozen sweet cherries, pitted and halved
3 Tbsp. sugar
2 Tbsp. freshly squeezed orange juice
1 tsp. orange blossom water
For the ricotta custards
1 Tbsp. unsalted butter, room temperature, for greasing
1½ cups whole-milk ricotta cheese, drained overnight in a fine-mesh strainer (14 oz.)
3 Tbsp. mild honey
1 tsp. freshly grated lemon zest
1 large egg
Instructions
Step 1
Make the cherry compote: In a small pot over medium-high heat, add the cherries, sugar, and orange juice. Bring to a boil, then lower the heat to maintain a simmer and cook, stirring occasionally, until the cherries soften and the liquid reduces to a syrup, 20–25 minutes. Remove from heat and stir in the orange blossom water; set aside and let cool to room temperature.
Step 2
Make the ricotta custards: Preheat the oven to 400°F. Lightly grease four 4-oz. ramekins with butter and place on a baking sheet. In a large bowl, whisk together the ricotta, honey, lemon zest, and egg until smooth. Divide ricotta mixture evenly among the ramekins, smoothing the tops with the back of a spoon. Bake until the custards are lightly puffed and golden brown on top, 30–35 minutes. Remove from the oven and let cool slightly at room temperature. Top with the compote and serve warm.