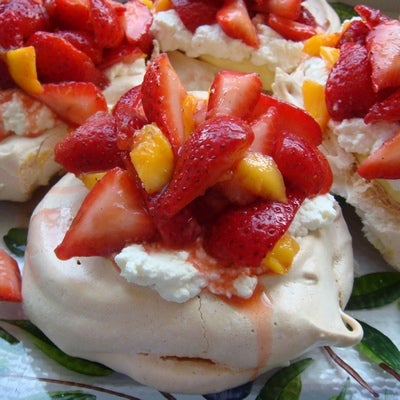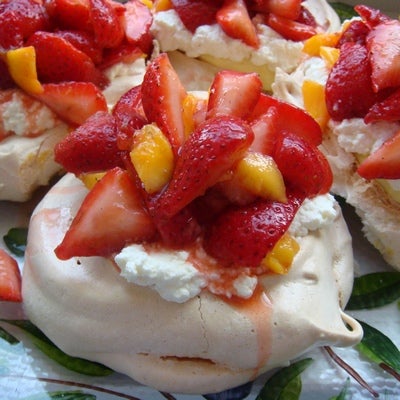 This recipe for pavlova makes a summery, bright, airy dessert. The original recipe for this dish appears in the cookbook My Father's Daughter: Delicious, Easy Recipes Celebrating Family & Togetherness by Gwyneth Paltrow (2011, Grand Central Publishing), where it calls for blueberries. If they're not in season, use any fresh fruit — like the mango and strawberry combination pictured here.
Yield: serves 8
Ingredients
4 organic large egg whites
Pinch fine salt
1⁄2 tsp. white vinegar
3⁄4 cup plus 2 tablespoons granulated sugar
1 tbsp. cornstarch
1⁄2 tsp. vanilla extract
1 cup heavy cream
1 1⁄2 cups fresh blueberries, or any fresh fruit, plus more for serving
Instructions
Preheat the oven to 350°F. Combine egg whites, salt, and white vinegar together in the bowl of an electric mixer and beat on high speed until soft peaks form. Combine the 3⁄4 cup sugar and cornstarch together in a small bowl and add to the egg whites in thirds, whisking each addition in completely. Add the vanilla and beat until stiff peaks form. Line a baking sheet with parchment paper and spoon the meringue in 8 big spoonfuls, using a spoon to spread them in a circle, and then make an indent in each. Bake for 10 minutes, lower the heat to 200°F, and bake for another hour. Turn off the heat and cool the meringues in the oven for an hour, propping the door open with a wooden spoon.
Meanwhile, whip the cream together with the remaining 2 tablespoons of sugar. In a small bowl, crush 1⁄2 cup of the blueberries with a potato masher or a spoon to release their juice. Fold those and the rest of the blueberries into the cream if you like, or use as a topping over the egg whites and cream. Evenly distribute the cream on the meringues, filling in the indentations. Top with juicy blueberries and serve.