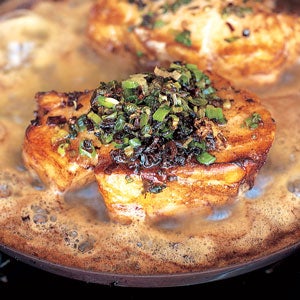 We like sea bass for this dish, but any firm white fish can be substituted.
Yield: serves 2
Ingredients
2 bunches scallions
8 tbsp. butter
2 (8-oz.) fish filets
Instructions
Trim and mince scallions. Set aside.
Melt butter in a skillet over high heat. Sear fish in skillet; then add half the scallions, and cook until burnt, 3-4 minutes.
Reduce heat to medium-low, add remaining scallions, and cook until fish is done, 6-8 minutes.