Charred Lemon-Pepper Pork Chops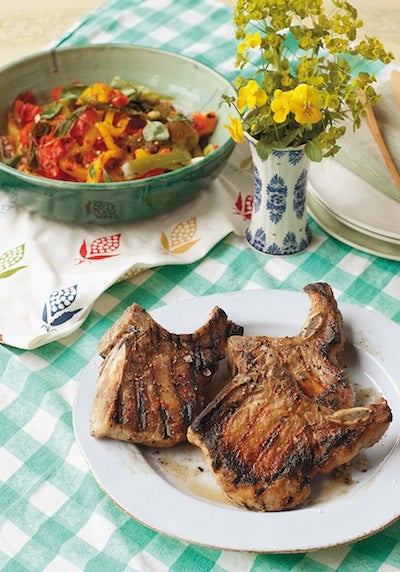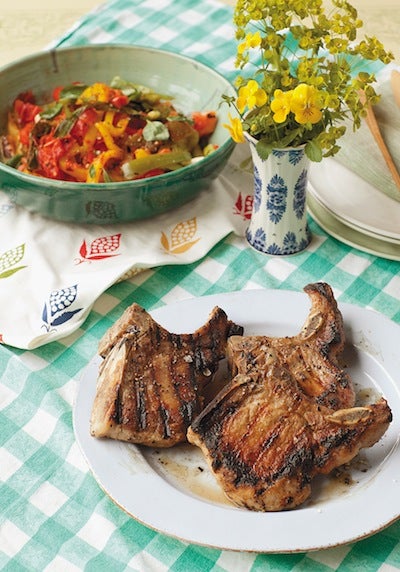 This recipe for lemon-pepper pork chops is from Sarah Huck and Jaimee Young's book Campfire Cookery: Adventuresome Recipes and Other Curiosities for the Great Outdoors (Stewart, Tabori & Chang, 2011). Serve the chops with Piperade Salad for a laid-back summer supper.
Charred Lemon-Pepper Pork Chops
Serve these pork chops with a colorful pepper salad for a laid-back summer meal.
Ingredients
1 clove garlic, cut in half
4 (8 oz.) bone-in, center-cut pork chops, about 1 1/4-inch thick
2 tsp. finely grated lemon zest
1 tbsp. freshly cracked black peppercorns
Kosher salt, to taste
1 tbsp. extra-virgin olive oil
Instructions
Prepare a high-heat fire, with flames licking the grill grate. Let it burn steadily for 30 minutes.
While the fire preheats, rub garlic all over each pork chop, making sure to grind the clove into the bone, which will help release the garlicky juices, thereby scenting the meat. Rub a little of the lemon zest onto each pork chop. Season with pepper and salt. Brush the chops with oil.
Place the pork chops directly upon the grill grate. Grill for 4 minutes, then turn and cook them an additional 3 minutes. Let stand 5 minutes before serving, topped with Pipérade Salad.