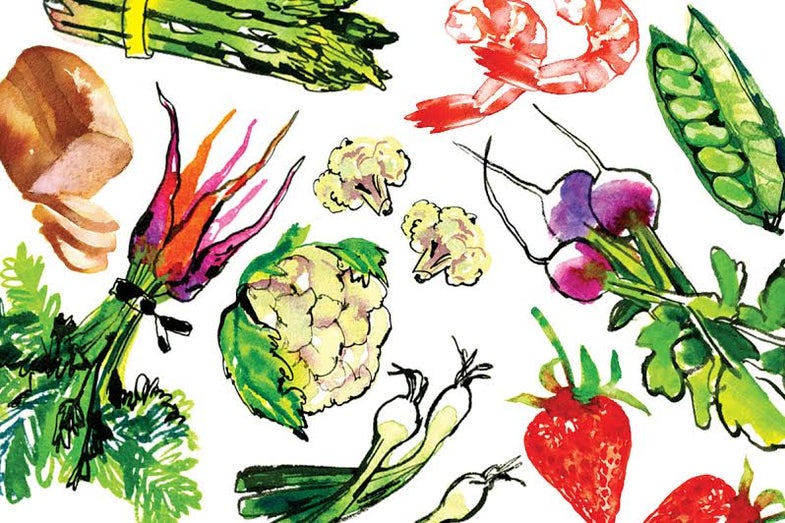 This simple dish is a staple of home cooking throughout Spain and Latin America.This version is mild, comforting, and brothy, almost to the point of being a soup.
Yield: serves 6
Ingredients
1 (3-3 1/2-lb.) chicken, halved lengthwise
3 cloves garlic, peeled and crushed
Salt
1 1⁄2 cups long-grain rice
2 carrots, peeled, trimmed, and sliced crosswise
3 ribs celery, trimmed and chopped
Pinch saffron threads
4 scallions, trimmed and thinly sliced
Freshly ground black pepper
Instructions
Put chicken, garlic, 8 cups cold water, and a generous pinch of salt into a large, heavy-bottomed pot and bring to a boil over high heat. Reduce heat to medium-low, cover, and simmer until chicken is tender, about 1 hour. Using a slotted spoon, transfer chicken to a plate and set aside.
Strain chicken broth into a large bowl, discard solids, and return broth to cleaned pot. Add rice, carrots, celery, and saffron and bring to a boil over high heat. Reduce heat to medium and cook, uncovered, stirring occasionally, until rice is tender, about 15 minutes.
Meanwhile, when chicken is cool enough to handle, peel off skin and remove meat from bones, discarding skin and bones and tearing the meat into large pieces. Add chicken and scallions to pot with rice, season to taste with salt and pepper, and cook until chicken is just heated through, about 5 minutes more.