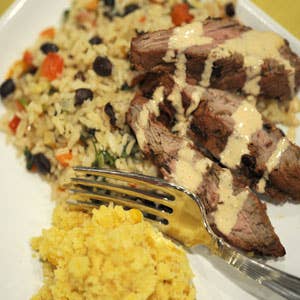 Recipes
Chipotle Skirt Steak with Tex-Mex Rice and Corn Spoon Bread Pudding
Jason Gronlund, corporate executive chef for TABASCO®, created this spicy Southwestern-inspired recipe using the flavor of smoked jalapeños. The corn pudding adds a nice sweetness to the dish.
**FOR THE STEAK:
2 1/2 lbs trimmed skirt steak
5 oz. TABASCO® Brand Chipotle Pepper Sauce
1/2 cup Italian dressing
**
**FOR THE CORN BREAD PUDDING:
1 box Jiffy corn bread mix
1 10 oz. package frozen cream corn (defrosted)
1 cup frozen corn (defrosted)
2 eggs
1/2 cup sugar
3/4 cup evaporated milk
2 dashes TABASCO® brand Red Pepper Sauce
**
**FOR THE CHIPOTLE-RANCH SAUCE:
1 cup ranch dressing
1/4 cup TABASCO Brand Chipotle Pepper Sauce
**
**FOR THE RICE:
1/4 cup butter
3 cups precooked rice (1 1/2 cups uncooked)
1/2 cup diced onions
3/4 cup diced peppers *
1 cup black beans (cooked & drained)
1/2 cup chopped green onion
1/2 cup chopped cilantro
1/4 cup fresh lime juice
2 tsp kosher salt and freshly ground black pepper
to taste
**
**Crushed tortilla chip's
Sour Cream (optional)
**
1. For the steak marinade: place steak, TABASCO®, and Italian dressing in an air tight container and shake well, let stand for 24 hours.
2. For the corn bread pudding: preheat oven to 350° and butter a 9" x 9' glass baking dish. In a mixing bowl combine corn bread mix, cream corn, corn, sugar, eggs, milk and TABASCO® Brand Red Pepper Sauce. With a wire whisk mix until mixture is smooth and evenly blended with no lumps. Pour mixture into buttered pan. Place in oven and cook for 25 min or until golden brown and firm.
3. For the chipotle-ranch sauce: place the ranch dressing and the TABASCO® Brand Chipotle Pepper Sauce in a small bowl. Wisk together until evenly blended. Place the mix in a squirt bottle if you have one, if not, cover and set aside.
4. For the rice: Prepare uncooked rice as stated on package, set aside. In a saute pan over medium high heat melt butter, add onions and the peppers. Saute until the onions are caramelized. Add the black beans and rice, saute until all is hot.
5. Remove from heat and add the green onions, cilantro, lime juice, and salt. Blend together until mixture is even in appearance. Add any additional salt and pepper to taste. Keep warm.
6. Remove steak from marinate and cook on a hot grill to the desired temperature.
7. To serve: place approx 3/4 cup of the rice mix on a plate, top with the skirt steak cut in strips, about 6 ounces. Drizzle the top with the chipotle-ranch sauce and garnish with some crushed tortilla chips and serve with a spoon of the corn bread pudding.
*You may use any peppers you would like in the rice from multi colored, to spicy jalapeños or habanero's.