Chocolate-Dipped Macaroons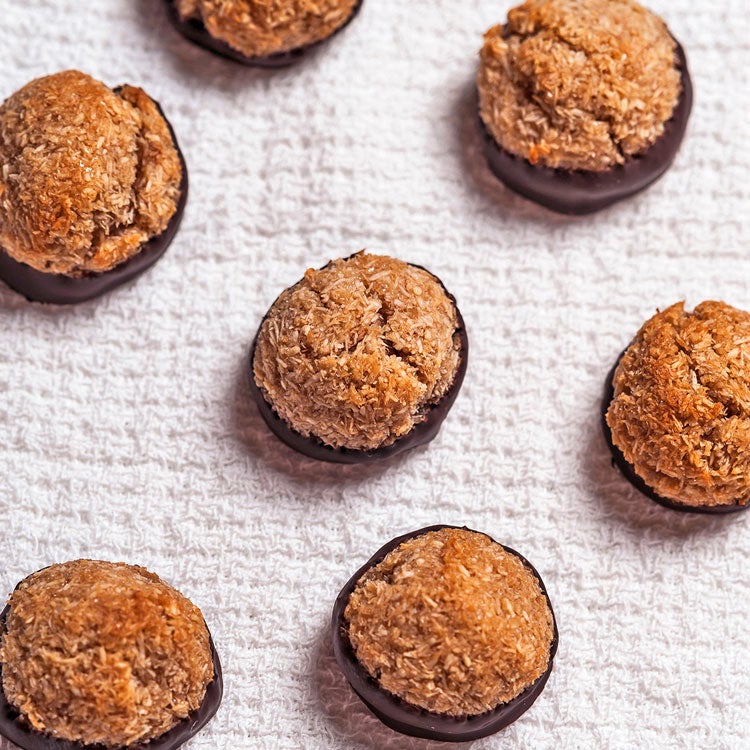 This recipe, from Cookie & Kate blogger Kathryne Taylor, appeared in our 2012 Cookie Advent Calendar. Kathryne says: "If you are a fan of chocolate and coconut, you will absolutely adore these black-and-white macaroons. So frequently requested by friends, they've become my signature cookies. Fortunately, they're a cinch to whip up by hand, both ship and freeze well, and happen to be gluten-free."
Yield: makes 3 Dozen
Ingredients
3 egg whites
3 cups unsweetened shredded coconut
1 cup turbinado sugar
3 tbsp. maple syrup or honey
2 tsp. vanilla extract
1⁄2 tsp. ground cinnamon
1⁄2 tsp. kosher salt
12 oz. dark chocolate chips, melted
Instructions
Heat oven to 375°. Whisk egg whites in a bowl until loose and frothy; add coconut, sugar, syrup, vanilla, cinnamon, and salt, and stir until evenly combined.
Using a tablespoon, portion and roll mixture into balls and place 1″ apart on parchment paper-lined baking sheets; bake until lightly golden brown, about 12 minutes. Let cool completely.
Place chips in a bowl and melt in the microwave. Dip the bottom of each macaroon in chocolate and then transfer to parchment paper, chocolate-side down; let cool until chocolate is set.