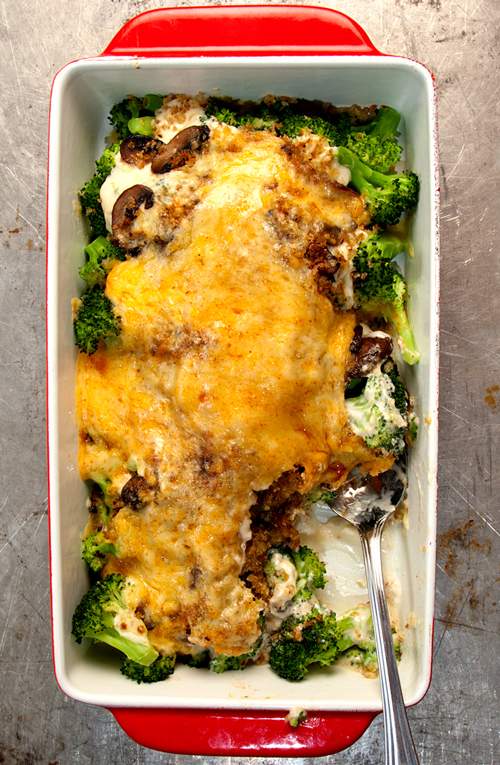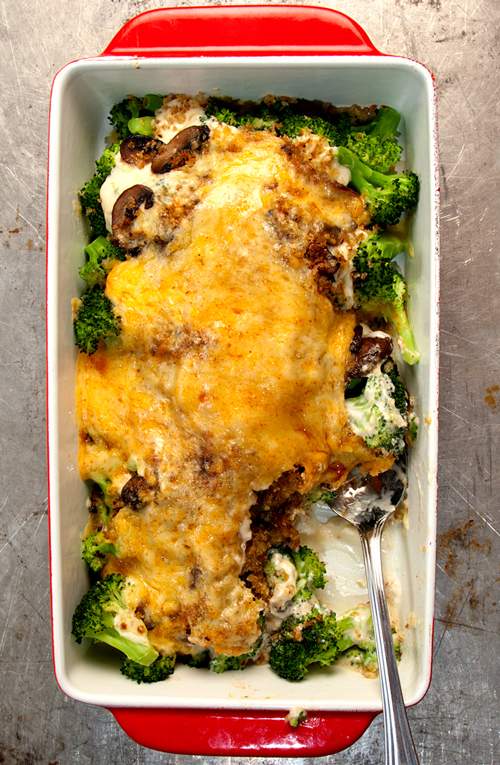 At some point in my early childhood, my mother, Patricia, transitioned a third shift nursing career into a more steady, although infinitely more challenging, job as a special education teacher to mimic my own school schedule. One day she brought home a recipe card from a co-worker that would change our lives forever—a cream of mushroom soup and mayonnaise-laden broccoli casserole topped with stuffing mix and cheddar cheese. Easily pulled off on a busy weeknight, this simple, satisfying dish became more sophisticated as I grew and began helping in the kitchen. Fresh broccoli replaced frozen, cremini mushrooms and béchamel replaced canned soup, and panko replaced stuffing mix, but our devotion to the dish has never wavered. —Kellie Evans
Broccoli Casserole
Broccoli and cheddar are a classic pair; their mellow flavors marry in this creamy casserole, a weeknight staple from the kitchen of associate food editor Kellie Evans' mother, Patricia.
Ingredients
Kosher salt, to taste
4 heads broccoli, cut into small florets
2 tbsp. olive oil
8 tbsp. unsalted butter
8 oz. white button mushrooms, thinly sliced
1 1⁄2 cups panko bread crumbs
2 tsp. dried sage
Freshly ground black pepper, to taste
3 cloves garlic, finely chopped
3 tbsp. flour
2 cups milk
2 tsp. dry mustard powder
1⁄4 tsp. freshly grated nutmeg
3 oz. cream cheese, softened
2 cups shredded cheddar cheese
1⁄2 cup mayonnaise
2 eggs, lightly beaten
1 small yellow onion, finely chopped
Instructions
Bring a large pot of salted water to a boil over high heat. Add broccoli, and cook until just tender, about 2 minutes. Drain and transfer to a 9″ x 13″ baking dish and set aside. Heat oil and 2 tbsp. butter in a 10″ skillet over medium-high heat. Add mushrooms, and cook, stirring, until browned, about 5 minutes; transfer to a bowl and set aside. Add 3 tbsp. butter to skillet and melt. Remove from heat add bread crumbs and sage; season with salt and pepper and set aside.
Heat remaining butter in a 2-qt. saucepan over medium-high heat. Add garlic and onion, and cook until soft, about 4 minutes. Add flour, and cook, stirring, for 2 minutes. Add milk, mustard, and nutmeg, and bring to a boil. Reduce heat to medium and cook, stirring often, until sauce is slightly thickened, about 3 minutes. Remove from heat and stir in cream cheese, 1 cup cheddar, mayonnaise, and eggs until smooth; season with salt and pepper and set sauce aside.
Heat broiler to high. Pour sauce evenly over the top of the broccoli; sprinkle with mushrooms, bread crumbs and remaining cheddar. Broil until cheese is melted and lightly browned, about 2 minutes.