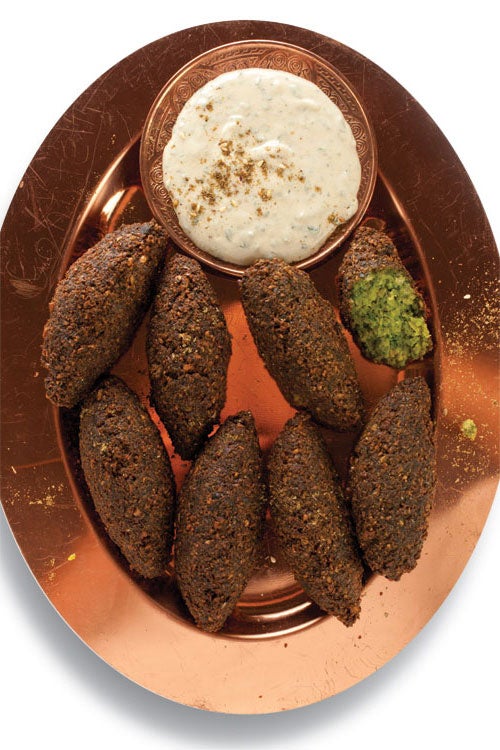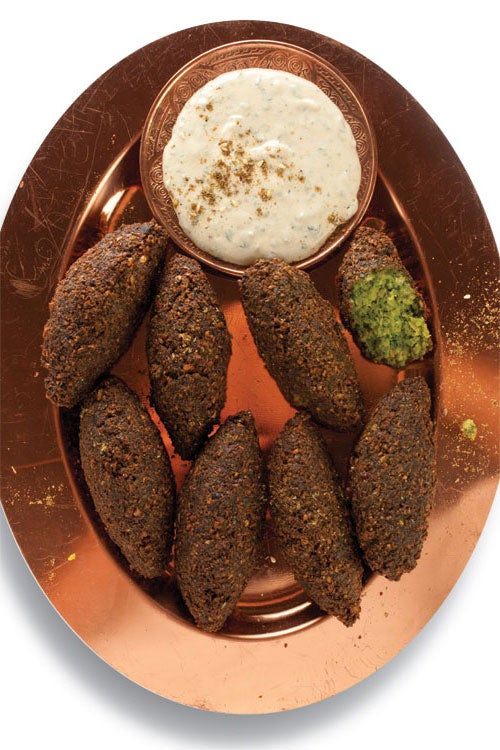 I have eaten my share of falafel around the world, and I love the way the simple legume patty takes on the flavor of a place, as in the dense fava bean falafels of Egypt and Iraq, Palestine's parsley-heavy chickpea versions, and the unusual falafel I happened upon at a restaurant called Amon, on Via Palazzuolo in Florence, where the Egyptian chef Na'ama adds fresh fennel to her mash. But any way you make it, there is nothing like falafel's first bite: the crisp-fried exterior giving way to a creamy center of seasoned mashed beans, garlic, and parsley. —Felicia Campbell
Falafel
There is nothing like falafel's first bite: the crisp-fried exterior giving way to a creamy center of seasoned mashed beans, garlic, and parsley.
Ingredients
3⁄4 cup finely chopped parsley
1⁄2 cup tahini
2 tbsp. fresh lemon juice
1 tbsp. plus 2 tsp. kosher salt
4 cloves garlic, finely chopped
Freshly ground black pepper, to taste
2 cups dried chickpeas, soaked in water overnight, drained
1⁄4 cup finely chopped cilantro
1 tbsp. ground coriander
1 tbsp. ground cumin
1 1⁄2 tsp. baking soda
1 tsp. cayenne
1⁄2 tsp. ground allspice
4 jalapeños, stemmed, roughly chopped
4 scallions, roughly chopped
1 medium yellow onion, roughly chopped
Canola oil, for frying
Za'atar, for serving
Instructions
Purée 1⁄4 cup parsley, tahini, juice, 2 tsp. salt, half the garlic, pepper, and 1⁄2 cup cold water in a small food processor; set sauce aside. Purée remaining parsley, salt, and garlic, chickpeas, cilantro, coriander, cumin, baking soda, cayenne, allspice, jalapeños, scallions, and onions until smooth. Transfer to a bowl; freeze for 20 minutes to firm.
Pour oil into a 6-qt. Dutch oven to a depth of 2″; heat over medium-high heat until a deep-fry thermometer reads 300°. Using 2 spoons, shape chickpea mixture into twelve 4″ oval balls. Drop into oil; fry until golden brown, about 5 minutes. Using a slotted spoon, transfer to paper towels to drain. Sprinkle with za'atar; serve with sauce.