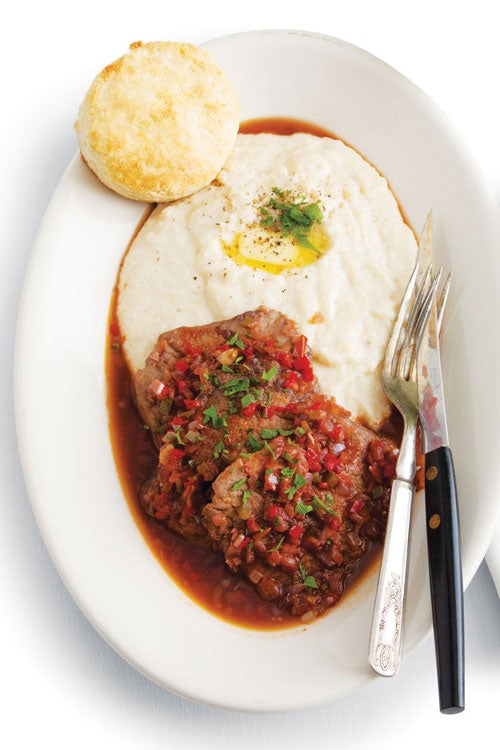 Grillades made their published debut as early as 1885. They are boneless medallions of veal, except when the cook substitutes bone-in "7 steaks," pork medallions, or beef tenderloin. And contrary to your French-English dictionary definition, they are never grilled. Rather, they are simmered in Creole-Italian red gravy, including enough tomatoes or tomato paste to color and flavor but not dominate the sauce. The meat has to be spoon-tender, neither melted into the gravy nor totally separate from it. In early recipes, grillades appear alone, or with rice, the gentleman's gentleman of Creole cooking, perhaps the assumed accompaniment; eventually grits became the standard pairing. Now that chefs have discovered grits, it seems they can't stop themselves from drowning them with cream or cheese. In all my years of growing up in New Orleans, we never cheesed our grits. Simmered the requisite time, the melded flavors in the grillades are more than sufficient to season lightly buttered grits. —Lolis Eric Elie, author of Smokestack Lightning: Adventures in the Heart of Barbecue Country (Ten Speed Press, 2005)
Grillades and Grits
Grillades are boneless medallions of veal, except when the cook substitutes bone-in "7 steaks," pork medallions, or beef tenderloin. And contrary to your French-English dictionary definition, they are never grilled.
Ingredients
3 cups chicken stock
1 cup stone-ground grits
4 tbsp. unsalted butter, cubed, plus more for serving
1 tsp. minced thyme
Kosher salt and freshly ground black pepper, to taste
1 tbsp. canola oil
1 lb. beef tenderloin, cut into 1/4″-thick slices
1 cup flour, for dredging
3 cloves garlic, finely chopped
1⁄2 small yellow onion, finely chopped
1⁄4 medium red onion, finely chopped
1⁄4 green bell pepper, stemmed, seeded, and finely chopped
1⁄4 red bell pepper, stemmed, seeded, and finely chopped
1 plum tomato, cored, seeded, and finely chopped
1⁄4 cup red wine
1 cup beef stock
2 tbsp. roughly chopped parsley
Warm biscuits, for serving
Instructions
Bring stock and 2 cups water to a boil in a 4-qt. saucepan over high heat. Whisking constantly, add grits; reduce heat to medium. Cook, stirring often, until tender, about 25 minutes. Stir in 3 tbsp. butter and thyme; season with salt and pepper, and keep grits warm.
Heat oil in a 12″ skillet over medium-high heat. Season beef with salt and pepper; dredge in flour. Working in batches, add to skillet; cook, turning once, until lightly browned, about 4 minutes. Transfer to a plate; set aside. Return skillet to heat; add remaining butter. Add garlic, both onions, and both peppers; cook until soft, about 4 minutes. Add tomato; cook for 5 minutes. Add wine; cook until evaporated, about 3 minutes. Return beef to skillet with stock; cook until reduced, about 5 minutes. Spoon grits onto plates, top with beef, and pour over pan juices. Sprinkle with parsley; serve with biscuits.