Chawanmushi (Japanese Egg Custard)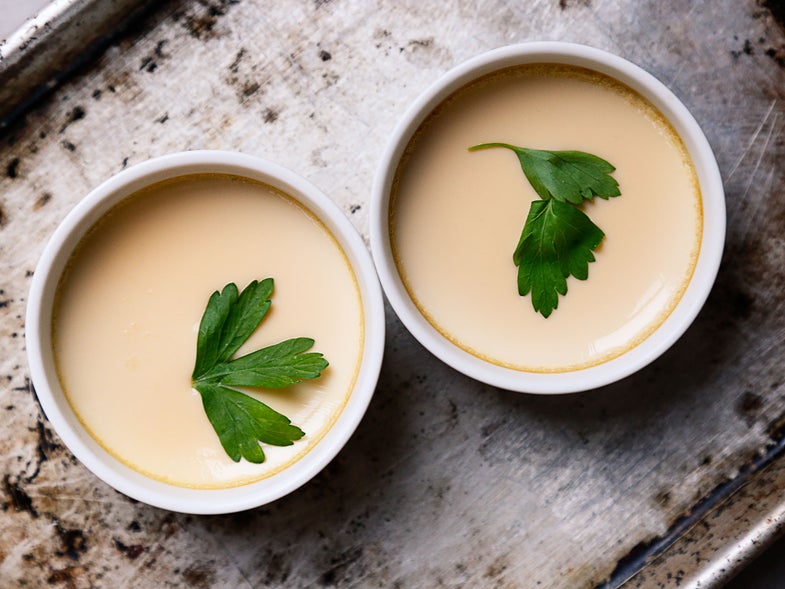 My mother's chawanmushi seemed like a treasure hunt. I would dig into the tender egg custard, seeking out chicken, shrimp, gingko nuts, and lily root. She made it only in autumn when these last two delicacies appeared in our market. When I first tried to make chawanmushi myself, I cooked it at too high a heat, which left craters on its surface. Now I have mastered my mother's technique—keep the water bath simmering, never boiling—and it reminds me of her calmness in the kitchen. —Hiroko Shimbo, author of Hiroko's American Kitchen (Andrews McNeel, 2012)
Chawanmushi (Japanese Egg Custard)
Filled with chicken, shrimp, and shiitake mushrooms, these savory custards make great, surprising appetizers.
Ingredients
2 Japanese-style dried anchovies (iriko), heads removed
1⁄2 (2″x15″) piece kombu
2 Tbsp. dried bonito flakes
1 boneless, skinless chicken breast, cut crosswise into 1/2″-thick slices, 1 1/2″ long
4 medium shrimp, heads removed, peeled, and deveined, halved lengthwise
1 1⁄2 tsp. soy sauce
1 1⁄2 tsp. mirin
3 eggs
2 shiitake mushrooms, stemmed and cut into 2 triangles each
4 sprigs parsley, tops only, tied into a knot
Zest of 1/2 lemon
Instructions
Bring anchovies, kombu, and 1 1⁄2 cups water to a boil in a 4-qt. saucepan; remove and discard anchovies and kombu with a slotted spoon. Add bonito; remove from heat. Let steep for 5 minutes; pour through a strainer and set dashi aside.
Heat oven to 325°. Bring a large pot of salted water to a boil over high heat. Add chicken; cook until opaque, about 3 minutes. Using a slotted spoon, transfer to a bowl; set aside. Add shrimp; cook until opaque, about 30 seconds. Drain; add to bowl with chicken. Divide mixture among four 6-oz. ramekins; place in a 9″x13″ baking dish.
Whisk dashi, soy sauce, mirin, and eggs in a bowl; pour through a fine strainer into a liquid measuring cup. Pour over shrimp and chicken in ramekins; top with mushroom triangle. Pour boiling water into baking dish to come halfway up sides of ramekins; bake until custard is just set, about 30 minutes.
Divide parsley among custard tops, and continue cooking until parsley is slightly wilted, about 2 minutes. Remove from oven, and transfer ramekins to serving plates; sprinkle with lemon zest before serving.