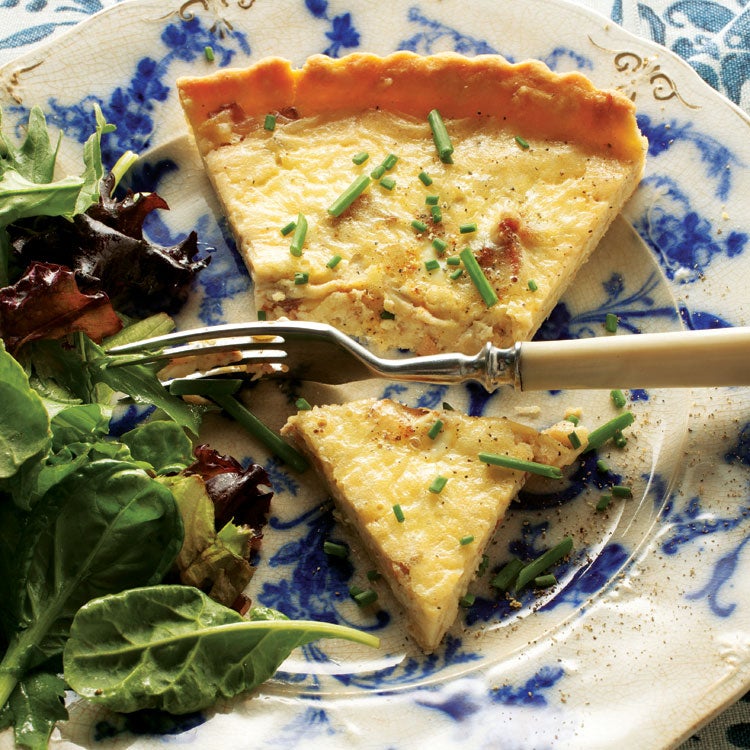 When I worked for a catering company in the seventies, we cranked out dozens of quiches Lorraine every day. Many a night I'd bring home one of the egg, cream, and bacon-filled tarts, and my boyfriend (now my husband) would dog the whole thing in one sitting. When Real Men Don't Eat Quiche hit the bookstores, we had no idea what they were talking about. —Sara Moulton
Quiche Lorraine
Named for the region of Lorraine in northeastern France, this classic quiche is loaded with cheese and bacon, turning breakfast staples into an elegant tart.
Ingredients
1 3⁄4 cups flour
8 tbsp. unsalted butter, cubed and chilled
1 tsp. kosher salt, plus more
3 eggs
3⁄4 cup grated Gruyère
1⁄2 cup heavy cream
1⁄2 cup milk
1⁄4 tsp. cayenne
1⁄4 tsp. freshly grated nutmeg
Freshly ground black pepper, to taste
3 slices bacon, finely chopped
Chopped chives, to garnish
Instructions
Place flour, butter, and salt in a bowl; using your fingers, rub together until pea-size crumbles form. Add 1 egg and 1 tbsp. ice-cold water; stir until dough forms. Briefly knead until smooth; form into a disk. Wrap and chill for 1 hour. Whisk together remaining eggs, cheese, cream, milk, cayenne, nutmeg, and salt and pepper in a bowl. Cook bacon in an 8″ skillet over medium heat to render its fat, about 12 minutes; cool. Add to egg mixture; set filling aside.
Heat oven to 375°. Roll dough into a 13″ circle; transfer to a 11″ tart pan with a removable bottom, pressing into bottom and sides. Trim excess dough; chill for 30 minutes. Prick bottom with a fork; cover with parchment paper, fill with dried beans, and bake until set, about 20 minutes. Remove paper and beans; bake until light brown, about 15 minutes. Reduce oven temperature to 325°; pour filling into crust. Bake until just set, about 20 minutes; garnish with chives.