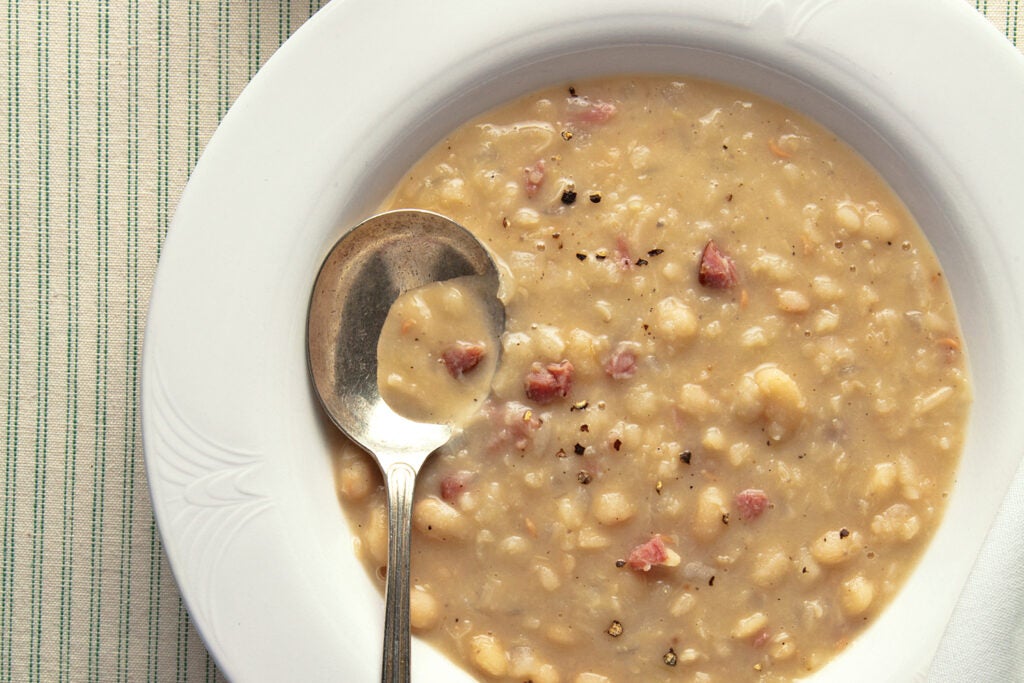 In the early 20th century, someone ordained that bean soup should appear on the menus of the Senate's restaurants. Beige and creamy, studded with ham, and homey as a log cabin, Senate bean soup sends the politically useful message that lawmakers are small-town boys and girls at heart. —R.W. Apple Jr., from "Politics Aside" (September/October 2001)
Senate Bean Soup
Beige and creamy, studded with ham, and homey as a log cabin, Senate bean soup sends the politically useful message that lawmakers are small-town boys and girls at heart.
Ingredients
1 lb. dried navy beans, soaked overnight, drained
1 smoked ham hock
1 tbsp. unsalted butter
1 small yellow onion, finely chopped
Kosher salt and freshly ground black pepper, to taste
Instructions
Bring beans, ham hock, and 8 cups water to a boil in a 6-qt. Dutch oven over medium-high heat; reduce heat to medium-low, and cook until beans are tender, about 1 hour.
Meanwhile, heat butter in a 10″ skillet over medium heat. Add onion, and cook, stirring, until soft, about 5 minutes. Transfer to pot with beans, reduce heat to low to keep warm. Remove ham hock, let cool slightly, and then remove meat, discarding bone, skin, and excess fat; finely chop meat and add back to soup. Lightly mash some of the beans in the pot to create a thick, creamy texture; season with salt and pepper.