Spinach and Ricotta Ravioli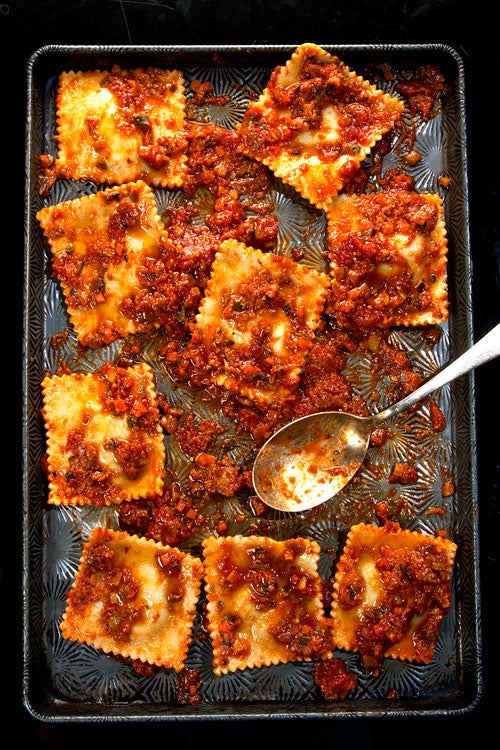 Saveur kitchen assistant Jeanna DeMarco shared this family recipe for tender ravioli filled with spinach and cheese, topped with a tangy tomato sauce bolstered with mushrooms, zucchini, and squash. "We were a vegetarian household," she says. "This was our special-occasion dish."
Yield: serves 10-12
Ingredients
4 oz. mozzarella, shredded
2 cups ricotta cheese
2 tbsp. thinly sliced basil leaves
1⁄4 tsp. freshly grated nutmeg
1 (10-oz.) package frozen spinach, thawed, squeezed completely dry, and finely chopped
Kosher salt and freshly ground black pepper, to taste
1⁄3 cup olive oil
6 cloves garlic, finely chopped
1 large onion, finely chopped
1 carrot, finely chopped
1 tbsp. ground fennel seeds
1 tsp. crushed red chile flakes
2 bay leaves
1⁄4 cup tomato paste
8 oz. white button mushrooms, finely chopped
1 medium zucchini, finely chopped
1 medium yellow squash, finely chopped
2 (28-oz.) cans whole peeled tomatoes in juice, crushed by hand
20 6 ½" x 5 ½" fresh pasta sheets (two 12-oz. packages)
Finely grated parmesan, for serving
Instructions
Combine mozzarella, ricotta, basil, nutmeg, spinach, and salt and pepper in a bowl; refrigerate filling until ready to use.
Heat oil in a 6-qt. saucepan over medium-high heat. Add garlic, onion, and carrot, and cook, stirring, until golden, about 6 minutes. Add fennel seeds, chile flakes, and bay leaves, and cook for 1 minute. Add tomato paste, and cook, stirring, until caramelized, about 3 minutes. Add mushrooms, zucchini, and squash, and cook until soft, about 10 minutes. Add tomatoes and 1 1⁄2 cups water, and bring to a boil. Reduce heat to medium, and cook, partially covered and stirring occasionally, until thick and slightly reduced, about 2 hours. Season with salt and pepper and let sauce cool.
Lay one pasta sheet on a work surface and lightly brush with water. Place 2 tsp. of the filling in the upper left-hand corner of the sheet, and repeat with three more portions, forming a grid of 4, each portion about 1″ from the edge of the sheet and spaced about 2″ apart from each other. Lay another sheet of pasta on top of the filling portions, and press down around the filling to press out any air and push the two pasta sheets together. Using a crimped pasta cutter or knife, trim the border of dough, and then cut a cross in between the 4 mounds of filling to create 4 ravioli. Repeat with remaining pasta sheets and filling to make 40 ravioli.
Bring a large pot of salted water to a boil over high heat. Add ravioli, and cook until al dente and filling is heated through, about 4 minutes. Using a slotted spoon, transfer ravioli to serving bowls and spoon sauce over top of each serving; sprinkle with parmesan.