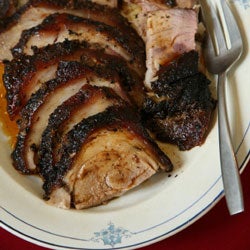 This luscious, Caribbean-inspired preparation for garlicky roast pork works especially well with the cut known as picnic shoulder, which gives you crisper skin than the more popular boston butt. Some cooks like to remove the skin and cook it separately, but we like the mix of textures that you get when you roast the pork with the skin on. (Besides, the fat layer under the skin continually bastes the meat as it roasts.)
Crisp Roast Pork
This luscious, Caribbean-inspired preparation for garlicky roast pork works especially well with the cut known as picnic shoulder.
Ingredients
2 tbsp. cumin seeds
1 tbsp. black peppercorns
2 tbsp. dried oregano
1⁄4 tsp. cayenne
12 cloves garlic
Kosher salt, to taste
1 bone-in skin-on pork picnic shoulder (about 8-lbs.)
1 cup fresh orange juice
1⁄2 cup fresh lime juice
2 tbsp. olive oil
Instructions
Toast cumin and peppercorns in a skillet over medium heat, 2–3 minutes. Transfer to a small food processor along with oregano, cayenne, garlic, and 1 tbsp. salt; process to a paste. Cut about twenty-five 1 1⁄2″-wide slits in the pork about 1″ deep. Rub garlic paste all over pork, pressing it into slits. Transfer pork to a roasting pan. Whisk together orange juice, lime juice, oil, and 2 tbsp. salt in a bowl; pour over pork. Cover and refrigerate, turning occasionally, for 18–24 hours.
Remove pork from refrigerator 2 hours before you are ready to roast, to allow it to come to room temperature. Heat oven to 325°. Roast, basting every 30 minutes, until a meat thermometer inserted in thickest part of pork registers 160°, about 3 hours total. (Add 1 cup water to pan when liquid evaporates; cover loosely with foil if skin gets too dark.) Let rest for 15 minutes, then carve (see Carving Pork Shoulder) and serve.