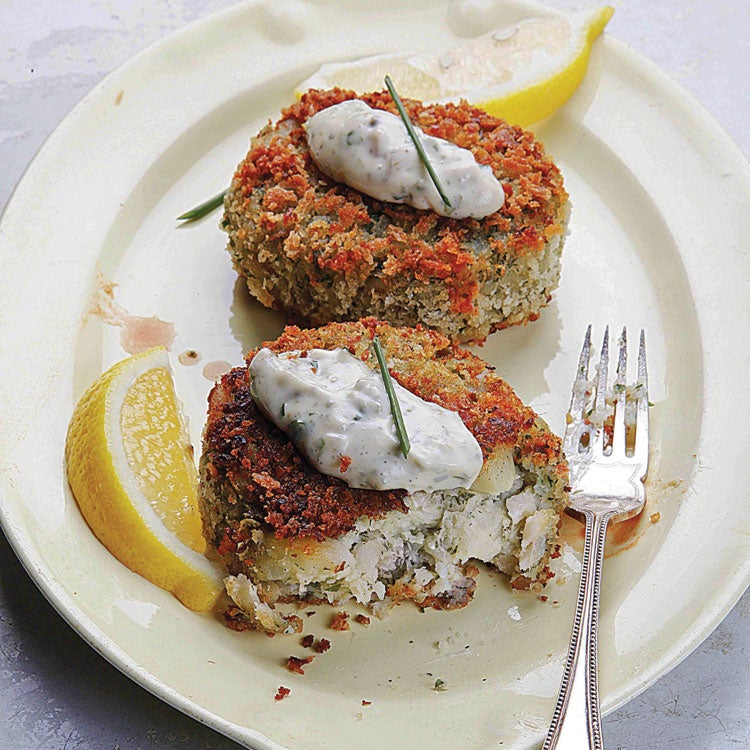 These fish cakes are chock full of creamy flaked haddock and herbed mashed potatoes. This recipe first appeared in our Jan/Feb 2013 issue along with our article Cape Cod Commercial Hook Fishermen's Association.
Yield: serves 4
Ingredients
2 large russet potatoes, peeled and cut into 1″ pieces
1 tbsp. unsalted butter
1⁄4 cup milk
Kosher salt and freshly ground pepper
3 tbsp. finely chopped parsley
3 tbsp. finely chopped dill
1 egg
1⁄3 cup olive oil
2 lb. boneless, skinless haddock fillets
2 cups panko bread crumbs
Tartar sauce, lemon wedges, and chopped chives, for serving
Instructions
Boil potatoes in a 4-qt. pot of salted water until tender, about 20 minutes. Drain and return to pot. Add butter, milk, and salt and pepper, and using a potato masher, mash until blended but still retaining some large chunks of potato. Stir in parsley, dill, and egg; set aside.
Heat 1 tbsp. oil in a 12″ nonstick skillet over medium-high heat. Pat the fish dry with paper towels, and season with salt and pepper. Working in 2 batches, cook fillets, flipping once, until cooked through, 6.10 minutes. Transfer to a bowl, and using a fork, flake into small pieces. Add fish to potato mixture; gently mix. Form mixture into eight 4″ cakes. Put bread crumbs in a shallow dish; coat cakes, pressing to adhere crumbs. Transfer to a plate; chill for 30 minutes.
Heat remaining oil in the skillet over medium-high heat. Add cakes; cook, flipping once, until golden, 6-8 minutes. Serve with tartar sauce, lemon wedges, and chives.