Deconstructed Bloody Mary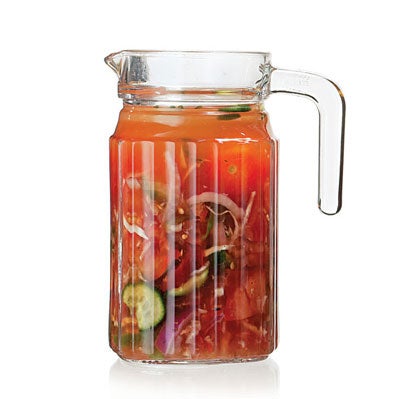 This bloody mary is chock-full of chopped vegetables and flavored with fresh herbs.
Yield: makes 2 Cocktails
Ingredients
4 oz. vodka
2 tbsp. freshly grated horseradish
1 1⁄2 tsp. kosher salt
1 tsp. sugar
6 medium vine-ripened tomatoes, seeded and chopped
4 sprigs thyme
2 cucumbers, chopped
1 jalapeño, finely chopped
1⁄2 red onion, halved and thinly sliced
Worcestershire, to taste
Tabasco, to taste
Freshly ground black pepper, to taste
Instructions
Pour all ingredients into a pitcher and stir. Chill mixture, stirring often, for 2 hours.
Remove and discard thyme. Fill 2 glasses with ice; pour mixture into each. Serve with a spoon, if you like.