Recipes
Dharan Ji Kadhi (Chickpea-flour Dumplings in Spiced Tomato Sauce)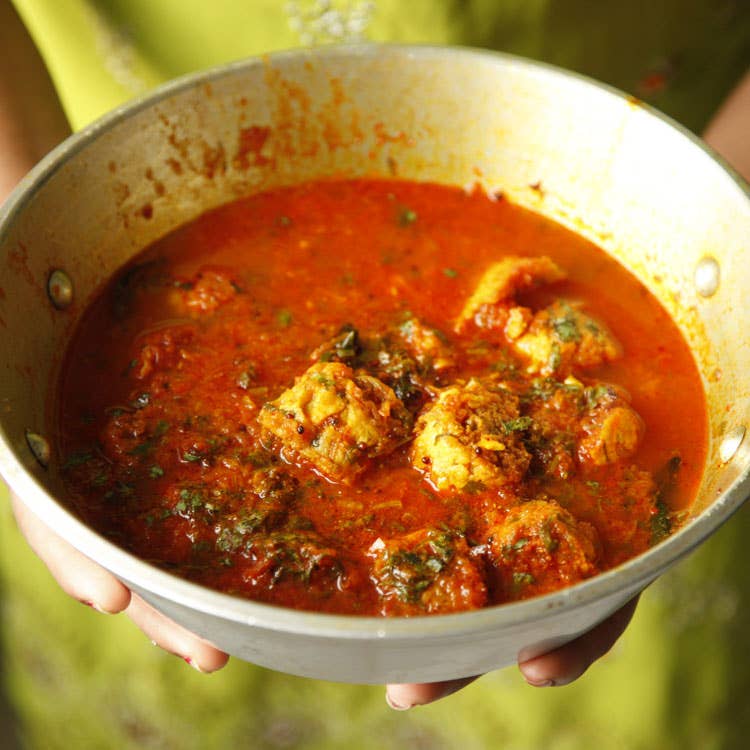 This rich dish features chickpea-flour dumplings, a Sindhi specialty.
Ingredients
Kosher salt, to taste
1 cup chickpea flour
1⁄2 cup finely chopped cilantro
1⁄3 cup canola oil, plus more for frying
1⁄4 cup plain yogurt
2 serrano chiles, stemmed, seeded, and minced
1 large white onion, minced
2 tsp. coriander seeds
1 tsp. black mustard seeds
1 tsp. cumin seeds
8 curry leaves
3 dried chiles de arbol
1 ( 15-oz). can whole peeled tomatoes, crushed
1⁄2 tsp. ground turmeric
1 (2") piece ginger, peeled and grated
1⁄4 cup finely chopped cilantro
Cooked basmati rice
Instructions
Step 1
Boil a 6-qt. saucepan of salted water. Mix flour, cilantro, 1⁄4 cup oil, yogurt, half each of the serranos and onions, plus salt in a bowl to make a dough. Divide and roll dough into four 4"-long logs. Add to water; simmer, covered, until firm, 4-6 minutes. Transfer to paper towels. Wipe pan dry; add enough oil to reach a depth of 2". Heat until a deep-fry thermometer inserted in the oil reads 350°. Slice rolls into 1 1⁄2" dumplings; fry until crisp, 2-4 minutes; drain.
Step 2
Heat remaining oil in a 4-qt. saucepan over medium-high heat. Add coriander, mustard and cumin seeds, curry leaves, and dried chiles; cook until seeds pop, 1-2 minutes. Add remaining serranos and onions, plus tomatoes, turmeric, and ginger; cook until caramelized, 5-7 minutes. Add 1 1⁄2 cups water; bring to a boil. Reduce heat to medium; cook until thick, 6-8 minutes. Add dumplings and salt; heat. Garnish with cilantro. Serve with rice.