Eggplant with Kasseri and Kefalotyri Cheese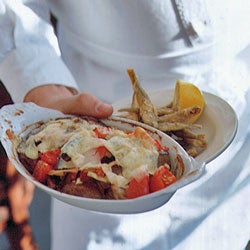 In Athens, ouzeris, or ouzo bars, feature small tapas-style appetizers like this one along with plenty of the anise-flavored liqueur.
Eggplant with Kasseri and Kefalotyri Cheese
The different flavors of the cheeses add depth to this simple preparation.
Ingredients
2 eggplants (about 3 lbs. total)
Coarse salt
Olive oil (preferably a fruity Greek extra-virgin olive oil)
1 medium onion, thinly sliced
2 cloves garlic, peeled and minced
3 lb. fresh tomatoes (or 1 28-oz. can drained plum tomatoes), coarsely chopped
1 tsp. ground cardamom
1 tsp. sugar
Freshly ground black pepper
1⁄4 cup grated fresh kasseri or kefalotyri cheese, or a combination of both
Instructions
Peel eggplants and slice each one into 1⁄2″-thick rounds, then sprinkle with coarse salt. Place in a colander and let drain, weighted, for 1⁄2 hour. Pat dry.
Brush eggplant rounds on both sides with olive oil. Brown in a large heavy skillet over high heat, adding more oil if necessary. Drain on paper towels.
In the same pan, heat 2 tbsp. olive oil over medium heat. Add onions and garlic, and cook 5 minutes. Stir in tomatoes, cardamom, sugar, and pepper to taste, and cook 5 minutes more.
Layer fried eggplant rounds and tomato sauce in four small baking dishes, and top each with an equal amount of cheese. Bake at 350° until cheese has melted, about 20 minutes.