Farmer's Salad with Beet Vinaigrette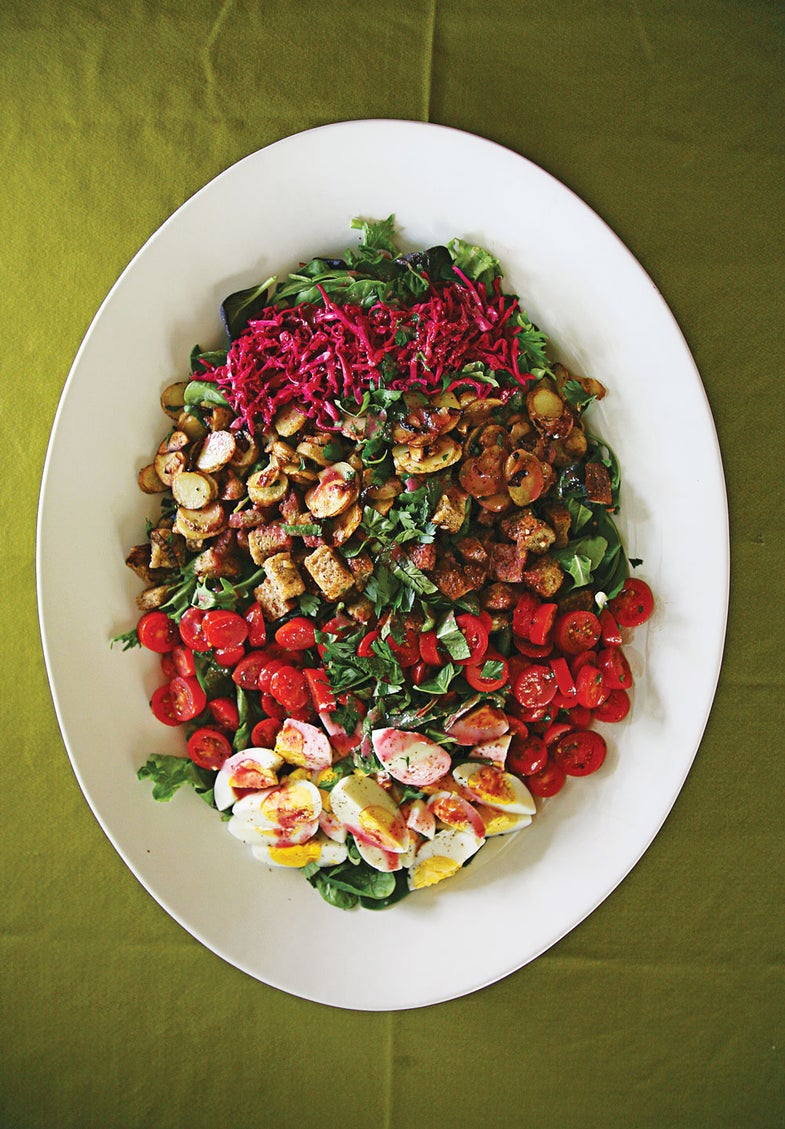 A thick sweet-tart pickled beet dressing brightens this salad from Lawrence, Kansas, home cook Dana Hangauer. Pour it on top of any combination of fresh, boiled, or pickled vegetables, or use it as a dip for crudites. This recipe first appeared in our August/September 2013 Heartland issue with the story Salad Social. Pour it on top of any combination of fresh, boiled, or pickled vegetables, or use it as a dip for crudites. See the recipe »_
Farmer's Salad with Beet Vinaigrette
A thick sweet-tart pickled beet dressing brightens this fresh farmer's salad.
Ingredients
1 pint cherry or grape tomatoes, halved
1⁄2 cup red wine vinegar
1 1⁄2 cups olive oil
Kosher salt and freshly ground black pepper, to taste
1 1⁄2 lb. fingerling or small waxy potatoes
3 cloves garlic, roughly chopped
4 slices whole grain bread, cut into 1″ pieces
1 small white onion, thinly sliced
1 cup pickled beets from a jar, drained
1 1⁄2 tbsp. whole grain mustard
1 tbsp. honey
1 small shallot, roughly chopped
8 oz. mixed greens
1 cup pickled red cabbage from a jar, drained
4 hard-boiled, peeled, and quartered
2 tbsp. roughly chopped basil
1 tbsp. roughly chopped mint
1 tbsp. roughly chopped parsley
Instructions
Toss tomatoes, 1⁄4 cup vinegar, 2 tbsp. olive oil, salt, and pepper in a bowl. Boil potatoes in salted water until tender, 6-8 minutes. Drain and thinly slice.
Heat 1⁄3 cup oil and garlic in a 12″ skillet over medium-high heat. Cook until soft, about 1 minute. Add bread, salt, and pepper; cook until crisp, 7-9 minutes. Transfer croutons to a plate.
Wipe skillet clean and heat 1⁄4 cup oil over medium heat. Add onion; cook until slightly caramelized, 5-7 minutes. Add sliced potatoes, salt, and pepper; cook until potatoes are golden, 10-12 minutes.
Puree remaining vinegar with beets, mustard, honey, shallot, salt, pepper, and 3 tbsp. water in a blender until smooth. With the motor running, drizzle in remaining oil; puree until emulsified.
To serve, spread mixed greens on a large platter. Arrange tomatoes, potatoes, croutons, cabbage, and eggs in alternating rows over greens. Drizzle about 1⁄4 cup dressing over the top and sprinkle with basil, mint, and parsley. Serve additional dressing on the side.