Fish Baked with Dried Okra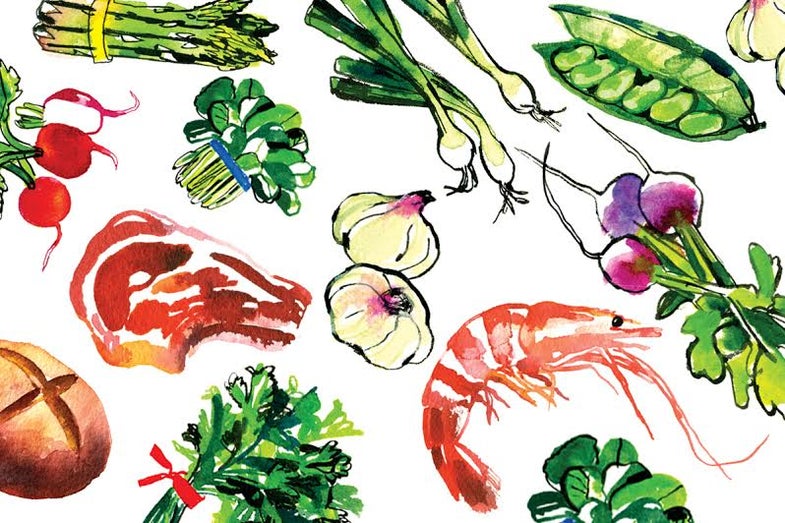 Okra is very popular on Crete. Like most Cretans, Christoforos Veneris, whose recipe this is, dries his okra in the sun before cooking it_._
Fish Baked with Dried Okra
Okra is very popular on Crete. Like most Cretans, Christoforos Veneris, whose recipe this is, dries his okra in the sun before cooking it.
Ingredients
1 1⁄2 lb. okra, stems trimmed
2 Tbsp. red wine vinegar
1 (2-3 lb) whole grouper, red snapper, or other firm, non-oily fish, cleaned and scaled
Juice of 2 lemons
Salt and freshly ground black pepper
1⁄2 cup extra-virgin olive oil
2 medium yellow onions, peeled and chopped
2 cloves garlic, peeled and finely chopped
8 ripe plum tomatoes, cored and quartered
1⁄2 cup Cretan white wine, or other dry white wine
4-6 stems parsley, leaves chopped
Instructions
Preheat oven to 200°. Toss okra with vinegar in a large bowl, set aside for 5 minutes, then arrange on a large cookie sheet in a single layer. Dry okra in oven, with oven door slightly ajar, for 1 hour, shaking cookie sheet halfway through baking time to turn okra over.
Meanwhile, cut fish crosswise into 3"-4" thick steaks. Put into a large bowl, including head and tail. Add lemon juice, and season to taste with salt and pepper. Toss well, cover, and allow to marinate for 1 hour.
Heat oil in heavy medium-size pot over medium-high heat. Add onions; sauté until soft, about 8 mintues. Add garlic and okra, stir gently, then add tomatoes and wine. Cover, reduce heat to medium-low; simmer, stirring occasionally, until okra is just tender, 25-30 minutes.
Increase oven temperature to 425°. Put half of the okra and sauce in a large ceramic baking dish, arrange fish and any accumulated juices over okra, then spoon remaining okra and sauce over fish. Cover and bake until fish is cooked through, 30-40 minutes. Uncover, baste fish and okra with pan juices, add parsley, and bake for 5 minutes more.