Recipes
Flatiron Steak Sandwich with Cucumber-Ginger Salad and Black Chile Mayonnaise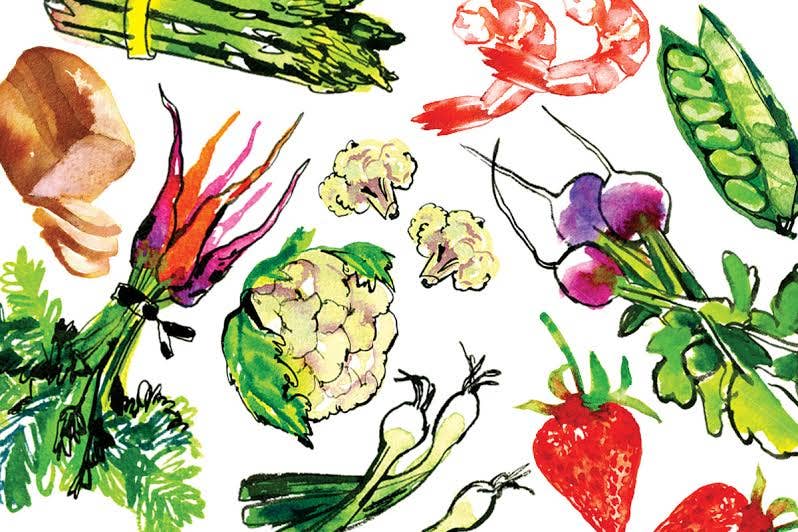 The heat from spicy black chile mayonnaise mixed with the soothing freshness of cucumber and ginger makes this flatiron steak sandwich from Chef Tom Colicchio, of Craft restaurants, a delicious pleasure.
Ingredients
For the Black Chile Mayonnaise
2 chipotle chiles
1 ancho chile
1 cup grapeseed oil
1 large egg yolk, preferably from a pasture-raised egg
1⁄2 tsp. minced garlic
Juice from 1 lime
1⁄4 tsp. sugar
1⁄2 tsp. kosher salt
For the Sandwich
1 (1-lb.) flatiron or sirloin steak
Kosher salt and freshly ground black pepper
1 tsp. vegetable oil
2 cups peeled, cored, and julienned English cucumber
2 Tbsp. peeled and julienned fresh ginger
1 cup cilantro leaves
4 Tbsp. Black Chile Mayonnaise
4 ciabatta rolls
Juice of 1 lime
Instructions
Step 1
For the black chile mayonnaise: Place an oven or cooling rack on top of a gas burner. Make sure you're cooking in a well-ventilated area to avoid breathing in the fumes that will generate when charring the chiles. Place the chiles on the rack and char over an open flame. (You can also char the chiles in a cast-iron skillet over high heat.) Using tongs, turn the chiles as they char. The chiles will puff up and turn completely black. Remove from the heat and cool.
Step 2
Discard the stems from all the chiles as well as the seeds from the ancho. Transfer chiles to a blender or food processor and grind until fine. Place in a bowl and combine with the oil.
Step 3
In a food processor, combine egg yolk, garlic, lime juice, sugar, salt, and 2 tbsp. water, and quickly blend. With the food processor at medium to low speed, slowly add the chile oil in a thin and steady stream until fully incorporated. If some of the chile mix sticks to the side of the bowl, stop the blender and use a spatula to fully incorporate and blend together until smooth. Use immediately or store in the refrigerator for 2 to 3 days.
Step 4
For the steak: Season the meat with salt and pepper. Heat the oil in a large cast-iron skillet over high heat. Add the steak and sear for about 5 minutes on each side. Remove from the heat and set aside to rest for 5 minutes. Thinly slice the meat against the grain.
Step 5
For the cucumber and ginger salad: In a small bowl mix cucumber, ginger, and cilantro. Set aside.
Step 6
Slice the ciabatta rolls in half and scoop out as much bread as possible. Spread the mayonnaise on the top halves of the rolls. Layer the sliced meat on the bottom halves and top with a generous amount of the cucumber and ginger salad. Drizzle the lime juice on top and season with salt. Close the sandwiches, cut into halves, and serve.