Potatoes Baked in Milk and Cream (Gratin Dauphinois)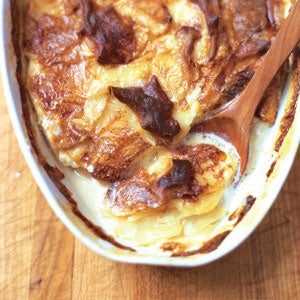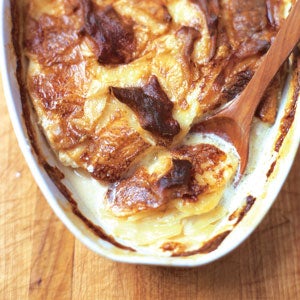 You can smell the milk and cream turn from sweet to savory as this dish bakes.
Yield: serves 6
Ingredients
2 lb. large russet potatoes, peeled and thinly sliced
1 1⁄4 cups whole milk
1 1⁄4 cups heavy cream
Salt and freshly ground black pepper
Freshly grated nutmeg
Instructions
Preheat oven to 275°. Arrange potatoes in slightly overlapping layers in an 8-cup gratin or baking dish. Mix together milk and cream in a bowl, then pour over potatoes to just cover. Bake for 1 hour.
Remove pan from oven and generously season top of potatoes with salt, pepper, and nutmeg. Return pan to oven and bake until liquid is thick and bubbling and top os golden brown, 1-1 1⁄2 hours more.