Grilled Montauk Squid with a Thai Basil Salad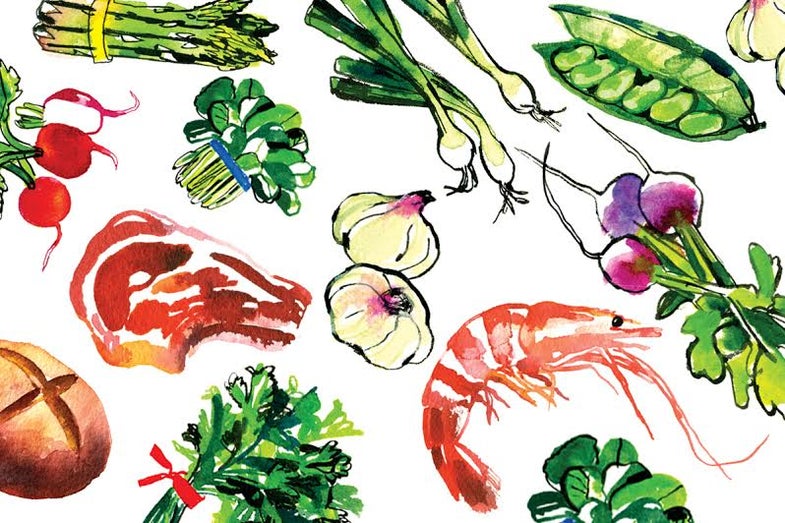 Fragrant Thai basil salad harmonizes with tender marinated grilled squid in this refreshing creation from Chef Peter Hoffman, chef and owner of Savoy restaurant in New York City.
Yield: serves 4
Ingredients
For the Squid
1⁄2 lb. squid, cleaned with skin left on
1 clove garlic
2 sprigs parsley
1 Tbsp. olive oil
Kosher salt and freshly ground black pepper
For the Thai Basil Salad
1 bunch purslane, picked of thick stems and washed
1 pint cherry tomatoes, sliced in half
2 medium beets, baked, peeled, and cut into wedges
4 stems Thai basil, picked, plus more for garnish
1 clove garlic
1 Tbsp. champagne vinegar
1⁄2 tsp. salt
1 anchovy filet, rinsed
1⁄4 cup extra-virgin olive oil
Instructions
For the squid: Combine all ingredients and marinate for at least 1 hour in the fridge
For the Thai basil salad: Place purslane, tomatoes, and beets in a bowl and set aside.
Make the dressing: Blend remaining ingredients in food processor. Taste and adjust seasoning.
To serve: Grill the marinated squid whole and then slice in thin strips. Toss the vegetable salad with the dressing and place the squid strips on top. Sprinkle with more Thai basil and serve.