Grilled White Asparagus with Mushroom Mayonnaise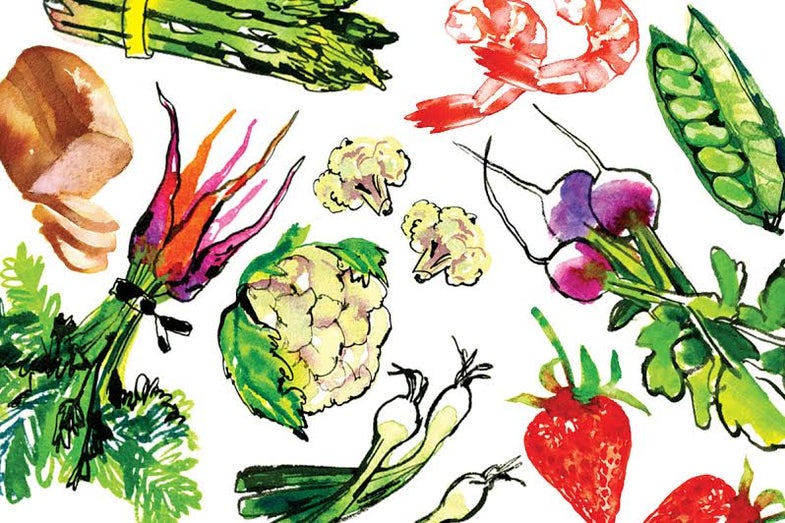 (Esparragos Naturales a la Parrilla con Mahonesa de Hongos)
Francis Paniego of Echaurren grills asparagus and other foods over vine cuttings because he likes the flavor that the wood imparts to dishes. This recipe is an adaptation of one used at the restaurant.
Grilled White Asparagus with Mushroom Mayonnaise
Grilling imparts a smoky flavor to these delicate spears.
Ingredients
1 egg yolk
1⁄2 tsp. fresh lemon juice
1⁄2 cup vegetable oil
10 Tbsp. extra-virgin olive oil
1⁄4 cup finely minced oyster mushroom caps
Sea salt
1 bunch white asparagus, trimmed, peeled and halved lengthwise
1⁄2 bunch chives, chopped
Instructions
Preheat a grill. Whisk egg yolk in a medium bowl until pale yellow. Whisk in lemon juice. Mix vegetable oil and H cup of the olive oil together and gradually add to yolk in a thin, steady stream, whisking constantly until mixture is emulsified and oil is completely incorporated. Fold mushrooms into mayonnaise, season to taste with salt, and set aside.
Cook asparagus in a pot of salted boiling water until tender, 3–5 minutes. Drain, then toss with 1 tsp. of the olive oil. Grill asparagus over hot coals until lightly marked, about 1 minute. Divide asparagus between 2 plates and add a dollop of mayonnaise to each plate (save remaining mayonnaise for another use). Garnish asparagus with chives, sprinkle with salt, and drizzle with some of the remaining olive oil.