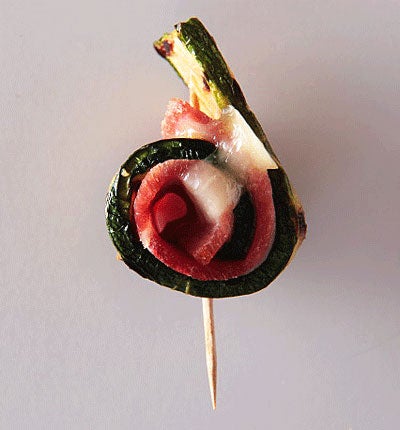 Involtini of ham and vegetables can be prepared in advance and heated at the last minute. They offer a great way to use up leftover pieces of thinly sliced cooked ham or prosciutto.
Yield: serves 4
Ingredients
3 medium zucchini
2 tbsp. olive oil
Kosher salt and freshly ground black pepper
12 slices prosciutto
12 slices mozzarella or provolone
Instructions
Trim ends from zucchini. Using a knife or a Japanese-style mandoline, slice zucchini lengthwise into twelve 1⁄8″-thick strips. Rub zucchini with olive oil; season with salt and pepper.
Grill or broil zucchini strips, flipping once, until browned and soft, about 6 minutes; let cool slightly.
Lay a long, thin piece of ham on top of a zucchini slice; place an equal-size piece of cheese over the prosciutto. Roll zucchini, ham, and cheese into a tight spiral and skewer shut with toothpick. Repeat to make 12 rolls in all. Broil or grill until hot.