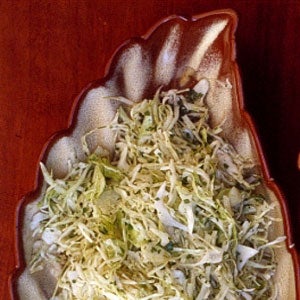 Author and restaurateur Rick Bayless recalled that this oil-and-vinegar-based slaw was the most popular of the seven cold side dishes served at his parents' restaurant, the Hickory House.
Hickory House Sour Slaw
This tangy, sweet-and-sour slaw makes a great accompaniment to barbecue dishes.
Ingredients
1⁄4 cup vegetable oil
1⁄4 cup white vinegar
1 tbsp. dry sherry
2 cloves garlic, peeled and coarsely chopped
1 tbsp. sugar
1 tbsp. salt
1⁄2 head green cabbage, cored and very thinly sliced (about 8 cups)
1⁄4 cup chopped parsley leaves
Instructions
Put oil, vinegar, sherry, 2 tbsp. water, garlic, sugar, and salt into a blender and purée until smooth. Put cabbage into a large bowl and sprinkle parsley on top. Pour dressing over slaw and toss well. Cover bowl and refrigerate for at least 1 hour before serving.