Recipes
Jellied Consommé with Spring Vegetables (Consommé en Geleé Cole Porter)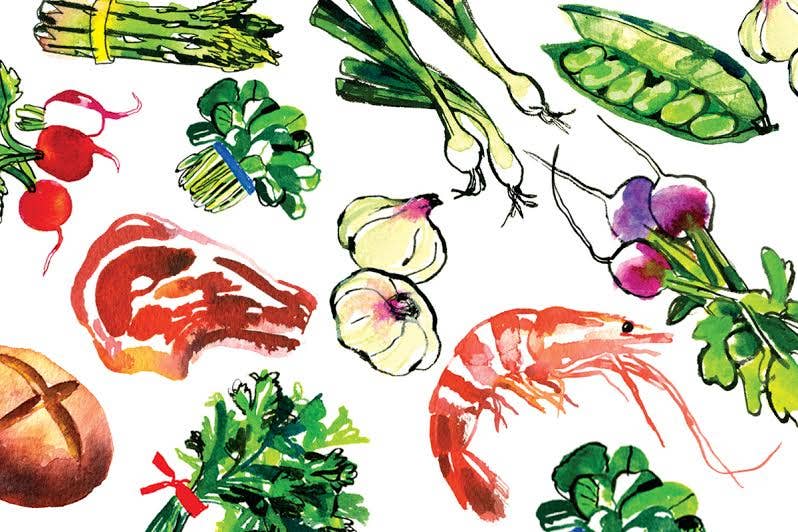 The naming of dishes after celebrity clientele has largely vanished today, except in delis, but the Connaught restaurant in London maintains the tradition.
Ingredients
For the Chicken Stock
6 lb. chicken bones (backs, necks, wing tips, and carcasses)
3 small yellow onions, peeled
3 small leeks, trimmed
3 stalks celery, trimmed
3 small carrots, peeled
6 sprigs fresh thyme
3 bay leaves
6 whole black peppercorns
Salt
For the Clarification and Garnish
8 oz. lean ground beef
4 oz. ground chicken
1 small carrot, peeled and finely chopped, plus 1/2 small carrot, peeled
1 leek, green part only, peeled and finely chopped
1 clove garlic, peeled and finely chopped
1⁄2 small kohlrabi, peeled
4 haricot verts
1⁄4 cup shelled fresh peas
1 Tbsp. finely chopped fresh parsley
White of 1 hard-cooked egg, sieved
Instructions
Step 1
For the chicken stock: Put 3 lbs. of the bones into a large stockpot and brown over medium heat. Meanwhile, finely chop onions, leeks, celery, and carrots. Add two-thirds of the vegetables, 4 sprigs of the thyme, 2 of the bay leaves, and 4 of the peppercorns to the pot and continue cooking until bones and vegetables are a deep golden color, about 45 minutes. Add 5 quarts of water and bring to a boil. Reduce heat to low. Slowly simmer, skimming any foam, for 3 hours. Strain, discarding solids.
Step 2
Put remaining 3 lbs. of bones and remaining vegetables, herbs, and peppercorns into stockpot. Add stock and repeat above process, bringing stock to a boil, skimming foam, then slowly simmering for 3 hours over low heat. Strain, discarding solids. Season double stock (about 7 cups) to taste with salt. Let cool, refrigerate, then skim off all fat.
Step 3
For the clarification: Heat 6 cups of the double stock in a medium pot over medium heat. Put beef, chicken, chopped carrot, leek, and garlic, and remaining 1 cup chicken stock into a medium pot and whisk with a large balloon whisk. Continue whisking while gradually adding hot stock. Bring to a boil over high heat, whisking continuously. Stop whisking the moment stock comes to a boil. Reduce heat to medium-low and slowly simmer for 1 hour, without stirring. Carefully push aside some of the meat "raft" and ladle consommé into a serving bowl through a sieve lined with cheesecloth or a coffee filter. Refrigerate until consommé jells to the consistency of very soft custard, about 3 hours.
Step 4
For the garnish: Trim and uniformly dice 1⁄2 a small carrot, kohlrabi, and haricots verts. Blanch diced vegetables and peas for 1 minute in a pot of boiling water over high heat, drain, and chill in a bowl of ice water. Gently fold carrots, kohlrabi, peas, and haricots verts into consommé until they are just suspended throughout. Refrigerate consommé until it returns to the consistency of very soft custard, about 30 minutes, then garnish the surface with parsley and sieved egg whites.