Recipes
Latticed Apple Wafers on Caramelized Puff Pastry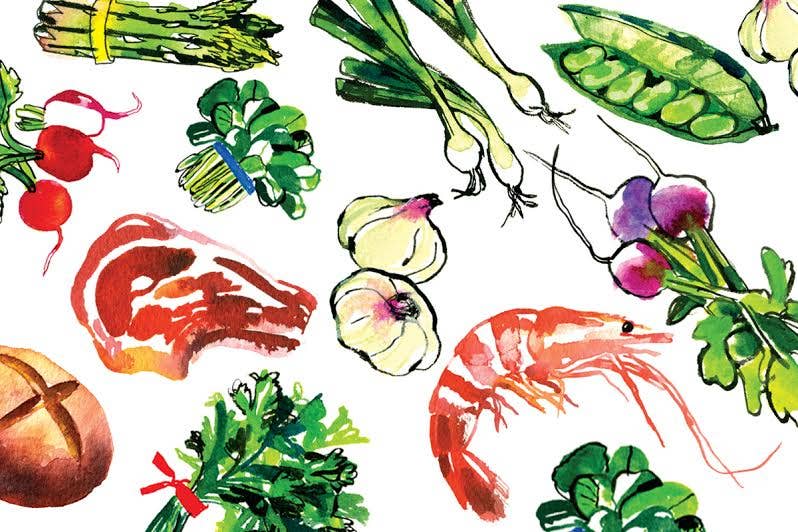 You will need a mandoline to make the lacy apple slices.
Ingredients
1 (7-oz.) (half sheet) frozen sheet puff pastry, thawed
3⁄4 cup confectioners' sugar, sifted
1 golden delicious apple
2 Tbsp. butter
1⁄3 cup heavy cream
1 large white sugar cube
Instructions
Step 1
Preheat oven to 375¡Æ. Roll out puff pastry on a lightly floured surface into a 5'' x 7'' rectangle, about ¨û'' thick. Place pastry on a parchment-lined baking sheet, prick evenly with a fork, then lay another baking sheet directly on top of pastry to weigh it down. Bake until pastry is golden, about 35 minutes. Uncover and continue baking until center is evenly golden, 2-5 minutes more. Pastry will be thin and flat.
Step 2
Preheat broiler and set rack about 3'' from the heat. Sift about 2 tbsp. of the sugar over pastry. Broil until sugar has caramelized, about 1 minute. Remove from oven, flip pastry over, and repeat with other side. (This will seal pastry and keep it crisp.) Set pastry aside.
Step 3
Peel apple, then place on a mandoline with a ruffled blade. Using this blade on mandoline's lower plate, adjust thickness to about 1-16'' and cut apple, creating a ridged surface. Twist apple 90 degrees, then slice across the grain through the apple to create an open-holed waffled pattern. Arrange slices on top of pastry, overlapping slices about 1⁄2''. Continue slicing towards center of apple, turn, and repeat with other sides of apple. Discard core.
Step 4
Melt 1 tbsp. of the butter in a small pan over low heat. Brush apples with butter, then sift about 2 tbsp. sugar on top. Return pastry to broiler and broil until apples are tender and lightly browned, about 4 minutes. Remove from broiler.
Step 5
Heat remaining 6 tbsp. sugar in a medium saucepan over medium heat, stirring until sugar melts and turns golden, about 5 minutes. Remove pan from heat and slowly whisk in cream. Continue whisking until smooth, then whisk in remaining 1 tbsp. butter. Using a fork, drizzle a little caramel over apples. Gently crush sugar cube into small chunks, then sprinkle over apples and caramel. Slice pastry into long rectangles and serve alone, or with seared foie gras, if you like.