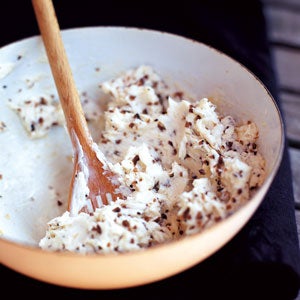 Madeira–Truffle Butter
This is a luxurious butter to smear on everything from your Thanksgiving turkey to a warm baguette to steamed vegetables.
Ingredients
6 tbsp. butter, softened
2 tbsp. madeira
1 fresh black winter truffle, cleaned and finely chopped
Salt
Instructions
Put softened butter into a medium bowl and whisk until fluffy. Gradually add madeira, whisking until completely incorporated.
Add truffle, season to taste with salt, and stir well. Butter will keep covered and refrigerated for up to 1 week, or frozen for up to 1 month.