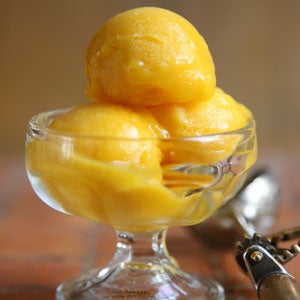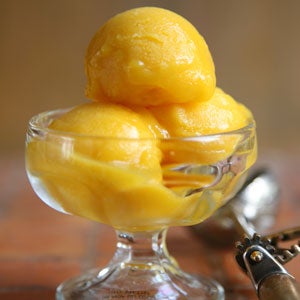 Author Elmer Grossman believes that mangoes make the creamiest kind of sherbet. Among varieties, kent has an excellent flavor and is less fibrous, while manila is mild and tart, with little fiber; tommy atkins is decidedly more fibrous.
Mango Sherbet
Some believe mangoes make the creamiest kind of sherbet.
Yield:
makes about 1 quart
Ingredients
3 kent mangoes (or 4, if using a smaller variety, such as manila,) peeled, pitted, and chopped
3⁄4 cup sugar
2 tbsp. vodka
1 tbsp. fresh lemon juice (omit if using manila mangoes)
Instructions
Put the mangoes, sugar, vodka, and lemon juice into a food processor and puree until completely smooth, 1-2 minutes.
Strain the mango mixture through a fine sieve, pressing and scraping it through with the back of a wooden spoon, to extract as much of the puree as possible. Discard the remaining solids.
Process the mixture in an ice cream maker according to the manufacturer's directions. Transfer mango sherbet to a sealable freezer-safe container and freeze.