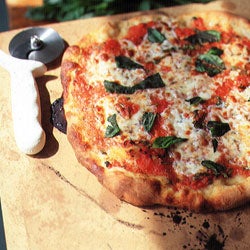 Ripe tomatoes are best for the sauce; if your tomatoes lack flavor, add tomato puree. Featured in: Royal Recipes: Food Fit for Kings »
Pizza Margherita
Ripe tomatoes are best for this pizza sauce; if your tomatoes lack flavor, add tomato puree.
Yield:
makes Two 12" Pizzas
Ingredients
2 lb. very ripe fresh plum tomatoes
Salt
16 small fresh basil leaves (or larger ones torn into pieces)
1⁄4 cup extra-virgin olive oil
1⁄2 cup tomato purée (optional)
1⁄2 lb. fresh mozzarella, sliced
<a href="https://www.saveur.com/article/Recipes/Master-Pizza-Dough">Master/ Pizza Dough</a>
Instructions
Drop tomatoes in a medium pot of boiling water for 10 seconds, then cool in a bowl of cold water. Slice off tops, slip off skins, and squeeze out seeds. Finely chop tomatoes.
Place tomatoes in a colander, sprinkle with salt, and drain for 20 minutes. Transfer to a medium bowl, stir in basil and olive oil (and tomato purée, if needed), and adjust seasoning. Spread tomato mixture evenly over pizza dough, place mozzarella slices on top, and bake at highest setting for 12–15 minutes.