Chicken with Pumpkin Seed–Tomatillo Sauce (Pollo en Pipián Verde)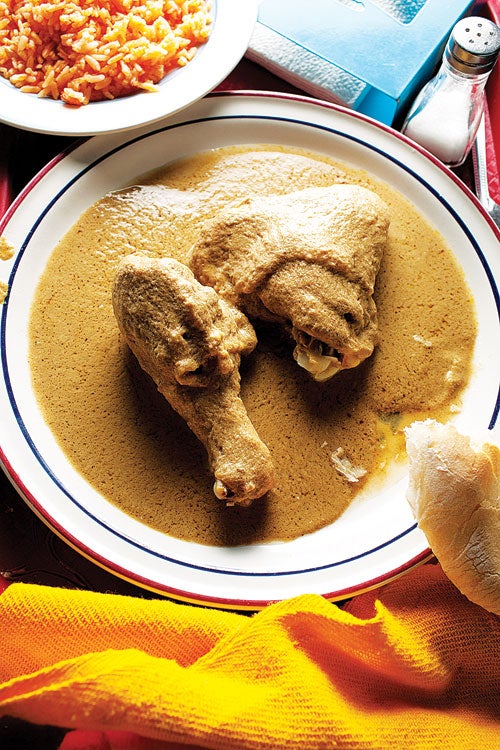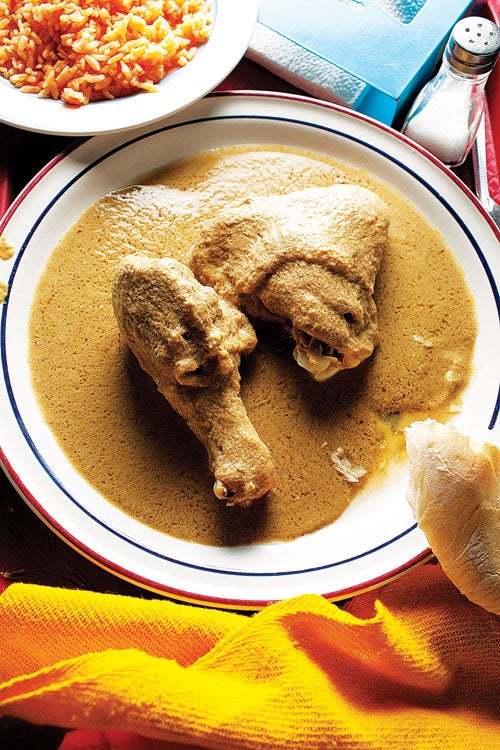 Chef Iliana de la Vega of El Naranjo restaurant in Austin, Texas, shared her recipe for this classic Pueblan sauce made with pumpkin seeds and tomatillos.
Yield: serves 8
Ingredients
1 (3–4-lb.) whole chicken, cut into 8 pieces
4 serrano chiles, stemmed
4 cloves garlic, peeled
1 1⁄2 medium white onions, cut into quarters
1 lb. tomatillos, husks removed, rinsed
1 cup roughly chopped cilantro
4 large leaves romaine lettuce, roughly chopped
1 1⁄3 cups raw, unhulled pumpkin seeds
1⁄2 cup roasted unsalted peanuts
1⁄4 cup sesame seeds
1⁄4 cup canola oil
Instructions
Bring chicken and 8 cups water to a boil in a 4-qt. saucepan over high heat, reduce heat to medium-low, and cook until cooked through, about 45 minutes. Drain, reserving 5 cups cooking liquid, and keep warm.
Heat a 12″ skillet over high heat. Add chiles, garlic, and onions, and cook, turning as needed, until all vegetables are charred all over, about 15 minutes. Transfer vegetables to a blender and set aside. Place tomatillos in a 4-qt. saucepan, and cover with water; bring to a boil, and cook until just tender, about 5 minutes. Drain, and transfer to blender along with cilantro and lettuce, and process all vegetables until smooth, at least 2 minutes. Pour purée through a fine strainer into a bowl, and set aside.
Wipe skillet clean and return to medium-high heat. Add pumpkin seeds and peanuts, and cook, swirling pan often, until nuts are lightly toasted, about 5 minutes; transfer to a blender, and return skillet to heat. Add sesame seeds, and cook, swirling pan often, until lightly toasted, about 2 minutes. Transfer to blender along with 3 cups reserved cooking liquid, and purée until very smooth, at least 2 minutes; set aside.
Return saucepan to medium-high heat, and add oil. When hot, add vegetable and nut purées, and fry, whisking constantly, until slightly thickened, about 5 minutes. Stir in remaining cooking liquid, and cook until smooth, about 5 minutes more. Spoon the sauce over chicken to serve.
Selecting Tomatillos "When buying tomatillos to make dishes like the pork ribs in tomatillo sauce look for firm fruits with husks that cling tightly to the fruit. These contain the most juice and will not be mealy inside. And smaller ones will typically be more flavorful." —Iliana de la Vega, chef-owner of El Naranjo in Austin, Texas, and chef-instructor at the Culinary Institute of America in San Antonio