Recipes
Spicy Chile-Peanut Sauce (Salsa de Cacahuate y Chile de Árbol)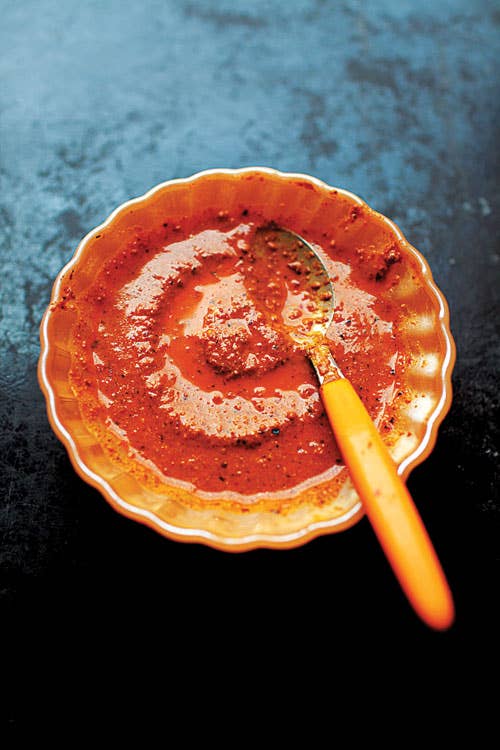 This peanut-chile sauce, a take on a traditional salsa from Chiapas, Mexico, is delicious spooned on grilled chicken or shrimp. This recipe first appeared in our August/September 2012 issue with Hugo Ortega's article Special Sauce.
Ingredients
1⁄2 cup canola oil
2 tbsp. sesame seeds
10 dried arbol chiles, stemmed
1 dried guajillo chile, stemmed
8 cloves garlic, finely chopped
1 small white onion, finely chopped
1 tbsp. apple cider vinegar
1 tsp. dried oregano
Kosher salt, to taste
1⁄2 cup roasted, unsalted peanuts
Instructions
Step 1
Heat oil in a 12" skillet over medium-high heat. Add sesame seeds, both chiles, garlic, and onion, and cook, stirring, until onions are soft and sesame seeds are lightly browned, about 8 minutes. Remove from the heat, and transfer to a food processor; let cool to room temperature. Add vinegar, oregano, and salt, and puree until smooth.
Step 2
Return skillet to heat, and add peanuts; cook, swirling pan, until lightly toasted, about 3 minutes. Transfer to food processor, and pulse along with the other ingredients until the peanuts are finely chopped, about 20 pulses. Add 1 cup water, and pulse until salsa is smooth but slightly chunky, about 10 pulses. Transfer to a serving bowl, and serve at room temperature.