Recipes
Tomatillo Salsa with Avocado and Queso Fresco (Salsa de Albañil )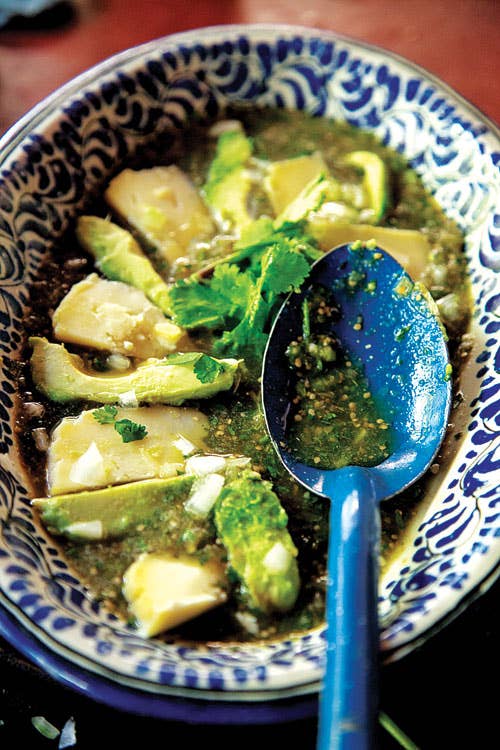 This fruity tomatillo salsa layered with queso fresco and avocado slices can be served as a side dish or as an appetizer with warm tortillas. This recipe first appeared in our August/September 2012 issue with Beth Kracklauer's article The Expat.
Ingredients
8 oz. tomatillos, husks removed, rinsed
1⁄3 cup plus 2 tbsp. roughly chopped cilantro
1⁄4 cup minced white onion
2 serrano chiles, stemmed, seeded, and finely chopped
1 clove garlic, minced
Kosher salt, to taste
4 oz. queso fresco, cut into twelve 1/4" slices
1 avocado, halved, pitted, peeled and cut into 12 slices
Warm tortillas, for serving
Instructions
Step 1
Bring tomatillos and 4 cups water to a boil in a 4-qt. saucepan; cook until tomatillos are just soft, about 5 minutes. Drain and set aside to cool.
Step 2
Place tomatillos, 1⁄3 cup cilantro, 2 tbsp. onion, chiles, garlic, and salt in a blender or food processor, and pulse until slightly chunky, about 20 pulses. Pour salsa into a serving dish and alternately layer queso fresco and avocado over salsa; sprinkle with remaining cilantro and onion. Serve with tortillas.